Primary tabs
Take part in Perform Europe's brainstorm sessions!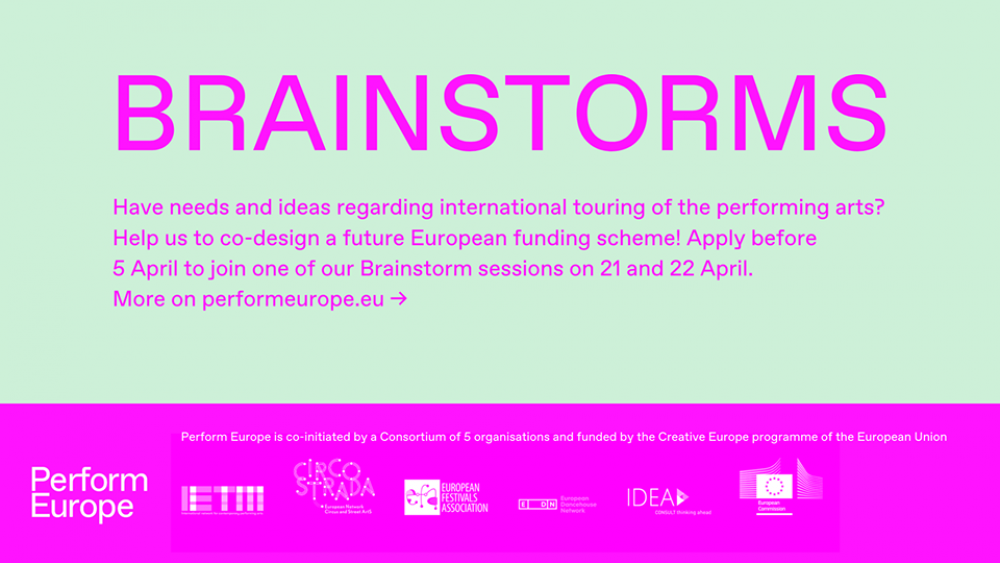 YOU WANT TO SHARE IDEAS AND NEEDS ABOUT TOURING FOR INTERNATIONAL PERFORMINGS ARTS? JOIN ONE OF THE PERFORM ERUOPE BRAINSTORM SESSION!
Perform Europe's intensive Mapping and Research phase is slowly coming to an end. As a last stop before opening the Perform Europe call for applications in June, we're inviting you and the broader performing arts ecosystem in all the 41 Creative Europe countries to apply for two identical large-scale online Brainstorms on 21 and 22 April 2021 from 10:00 to 12:00 CET on each day.
The purpose of these two Perform Europe Brainstorms is to hear about how your needs could be reflected in a future European funding scheme. What is still missing? Which characteristics should the future support scheme have to be in line with our desired future? In a nutshell: we want to co-design the future of performing arts touring with you and make you co-owner of the research results! 
After an introduction about the preliminary findings of our Mapping and Research phase, participants will break out into virtual groups to brainstorm on how new ways of thinking and doing could help build a more sustainable touring and distribution models for the performing arts, and how this could be reflected in the new scheme.
Please note that both Brainstorms will have the same objective and format. Preliminary reading material will be circulated before the events. We highly recommend reading this material in advance to be well prepared for the Brainstorms.
Limited capacity: 60 participants per brainstorm
Apply NOW
Application deadline: 5 April at 23:59 (CET)
more news in this category
WHO WE ARE

WHAT WE DO

THE NETWORK

Coordinator

Funders