Primary tabs
JOIN THE PERFORM EUROPE JURY!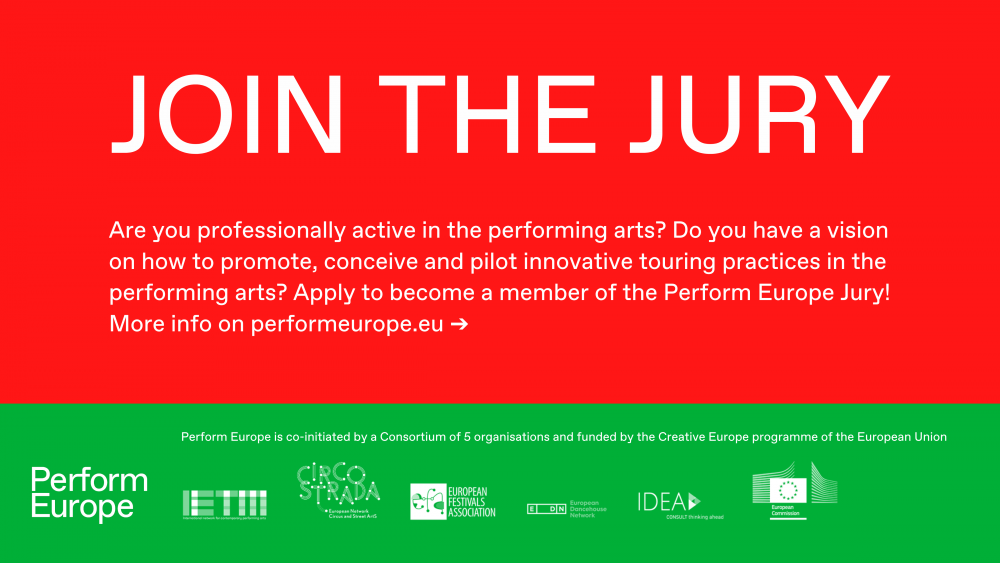 Perform Europe is looking for nine Jury members!
Are you professionally active in the performing arts? Do you have a vision on how to promote, conceive and pilot innovative touring practices in the performing arts? Then apply to become a member of the Perform Europe Jury!
The Perform Europe Jury will:
 select beneficiaries of the Perform Europe grants scheme,
contribute towards shaping the selection criteria and methodology,
take part in the dialogue on imagining and testing more sustainable and
inclusive touring and distribution models.
The Perform Europe Jury's work requires availability:
in April: contribute towards the text of the open call for presenters and producers as well as to take part in the Perform Europe online conference and workshops (upon availability);
in July: select presenters and producers during the first two or three weeks of the month (not full-time);
in October: select distribution partnerships and contribute to the Jury report.
Each Jury member will receive a fee of €1,200.
Make sure to read carefully all details of the call and apply before 8 March 2021!
➡ Apply HERE 
more news in this category
WHO WE ARE

WHAT WE DO

THE NETWORK

Coordinator

Funders