FRESH CIRCUS#5 - CALL FOR PROJECTS - CIRCUS AND TERRITORIES!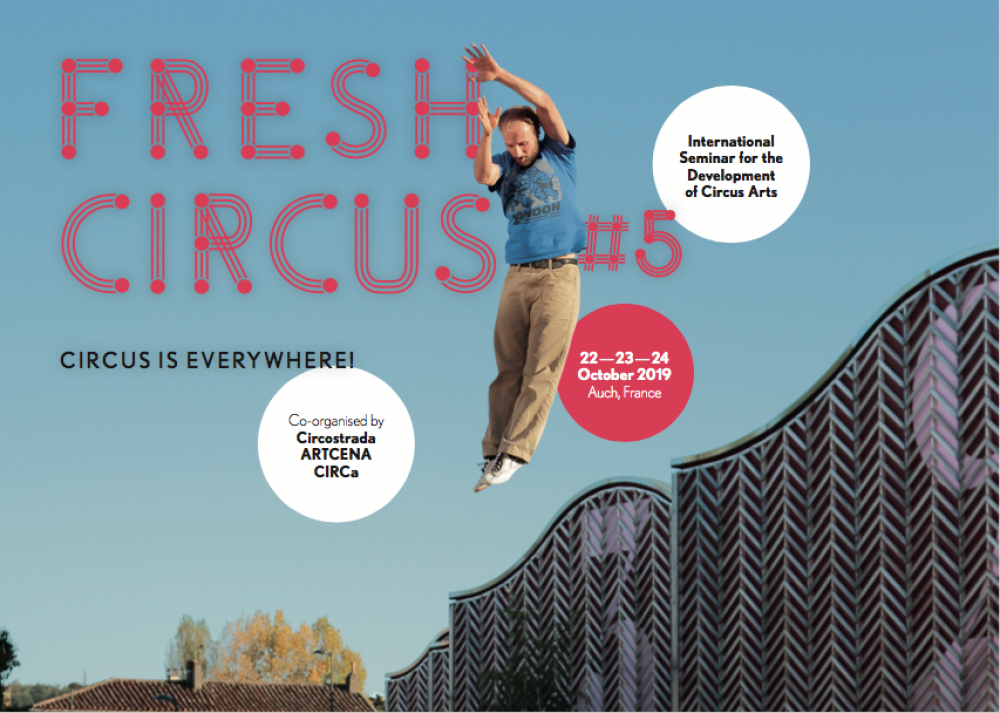 Category
Keywords
Seminars & Workshops, Calls
FRESH CIRCUS#5 – Circus is everywhere!
Do you wish to take part in FRESH CIRCUS#5 and join us during this key meeting time to exchange and reflect on circus arts at an international level? Are you currently developing a circus project or know of a circus project dealing with territories that you wish to share? 
Fill this form * by March 8, 2019! (accessible until midnight - French time)
*The form is available in English and French. To select the language, click on the flag menu in the top right hand corner of the page.
CONTEXT OF THE CALL 
Circostrada, ARTCENA and CIRCa are pleased to launch this call for projects in the frame of the fifth edition of FRESH CIRCUS- International Seminar for the Development of Circus Arts.
FRESH CIRCUS is a not-to-be-missed event for the circus sector which gives the opportunity to meet and exchange with more than 400 European and international professionals from different backgrounds, who are active in the development of circus in Europe and beyond: artists, pedagogues, programmers, journalists, students, researchers and policy makers. 
FRESH CIRCUS#5 will take place in Auch (France) from 22 to 24 October 2019, in the course of the 32th edition of CIRCA – contemporary circus festival – and will tackle the relations between circus and territories. If circus is everywhere, however it takes root differently depending on the territories and partnerships formed. Questioning the contexts of each project, its singularities, that of the territories where it is being developed, and to share experiences and good practices with international peers, such will be the stakes of this meeting. 
WHAT WE ARE LOOKING FOR
We are looking for 20 actors, who have initiated, developed or supported a circus project on a territory and who are able to come with one of their partners. 
By "project" we mean for example a place, a cultural action, a network, a school, etc. 
By "actor" we mean for example an artist, a company, an organisation, a school, an institutional operator – in other words, any kind of person who is at the origin of such a project. 
By "territory" we mean the geographical area on which the project is being settled. 
These projects must be ongoing or already achieved. Pending or unfinished projects which have reached an advanced reflection stage with some partners are also relevant to us. 
The selected projects will have the opportunity to be presented in the frame of the FRESH CIRCUS#5 programme on October 22nd, 2019 in front of some 50 international professionals and will serve as a basis for a discussion facilitated by experts (city planners, policy makers, artists, architects, sociologists, etc.)
It is therefore essential that the project initiators are able to communicate in a clear, interactive and dynamic manner on their initiatives. The presentation should be performed either in English and/or in French. 
SELECTION CRITERIA
The quality of the project will not be judged. 
The final selection will take into account the following elements: 
The representativeness of countries (North, South, in and outside Europe)
The type of territory (rural, peri-urban, metropolitan centers, etc.)
The diversity of project developers
The number and singularity of involved partners 
The inclusive and innovative nature of the project
This selection will be carried out by an international committee made up of Circostrada members and the selected projects will be announced on April 3rd, 2019. 
COMPENSATION FOR THE SELECTED PROJECTS 
Maximum 2 persons per project (the project initiator and a key partner)
Meals covered: 1 meal per person on October 22nd, 2019 
Accommodation: 1 to 2 nights maximum per person
Transport: support for travel costs (the aid ceiling will be set based on the continent of origin)
Shows: personal invitation for 3 shows of the festival
YOU STILL DON'T KNOW FRESH CIRCUS? 
To learn more about these events and the previous editions, click here. To give you a preview of the FRESH experience, we suggest you to watch the FRESH CIRCUS#4 aftermovie (Brussels, March 2018)!
more news in this category
WHO WE ARE

WHAT WE DO

THE NETWORK

Coordinator

Funders