DIVE#2 - IN-DEPTH TRAINING ACTIVITY
public
visible
PRESENTATION
The second edition of DIVE* - in-depth training activity - will take place from November 30th to December 2nd in Ilhavo (Portugal), co-organised with Bússola (Portugal), in collaboration with 23 Milhas, Ílhavo Camara Municipal and Acesso Cultura in the frame of LEME - Festival de Circo Contemporâneo!
DIVE is a three-day immersive event in the local environment of the hosting member and dedicated to reflecting on one specific theme through a wide range of experiential activities. The programme is deeply connected with Circostrada's annual read thread ("Diverse body/ies") and is meant to foster the sharing of knowledge, experiences, best practices between participants on this particular issue. In 2022 CIRCUS FORUM will be part of the DIVE event.
On-site activities are open to Circostrada members and Bússola guests upon registration. 
Online activities are open to all. 

Registrations are closed.
public
visible
ONLINE & ON-SITE PROGRAMME

Dive#2 programme is now available. Download it and find out what are the online and on-site activities! 


Discover the LEME's artistic programme by downloading its booklet!
public
visible
PARTNERS
PARTNERS: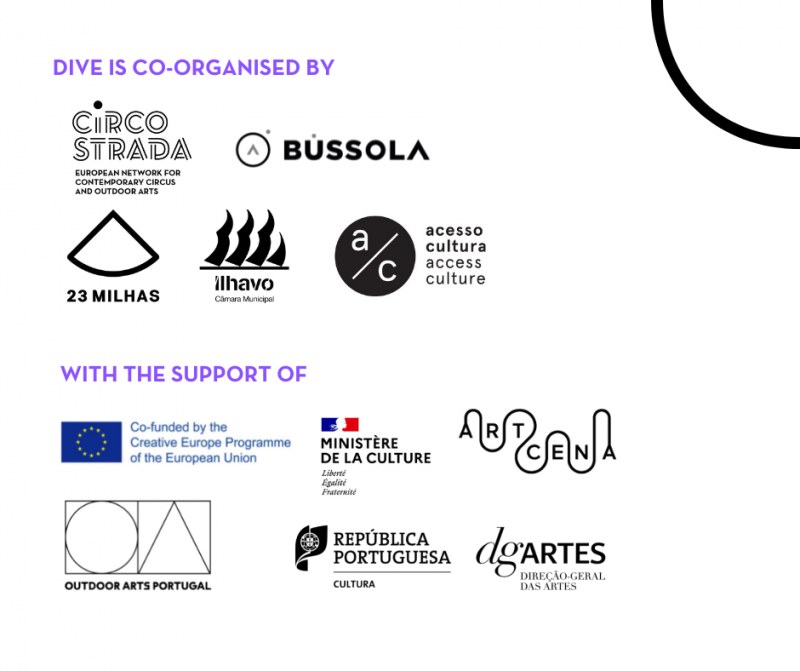 In order to access this section, you must enter the password that has been sent to you per email.
WHO WE ARE

WHAT WE DO

THE NETWORK

Coordinator

Funders