Primary tabs
The network is growing: meet our new members!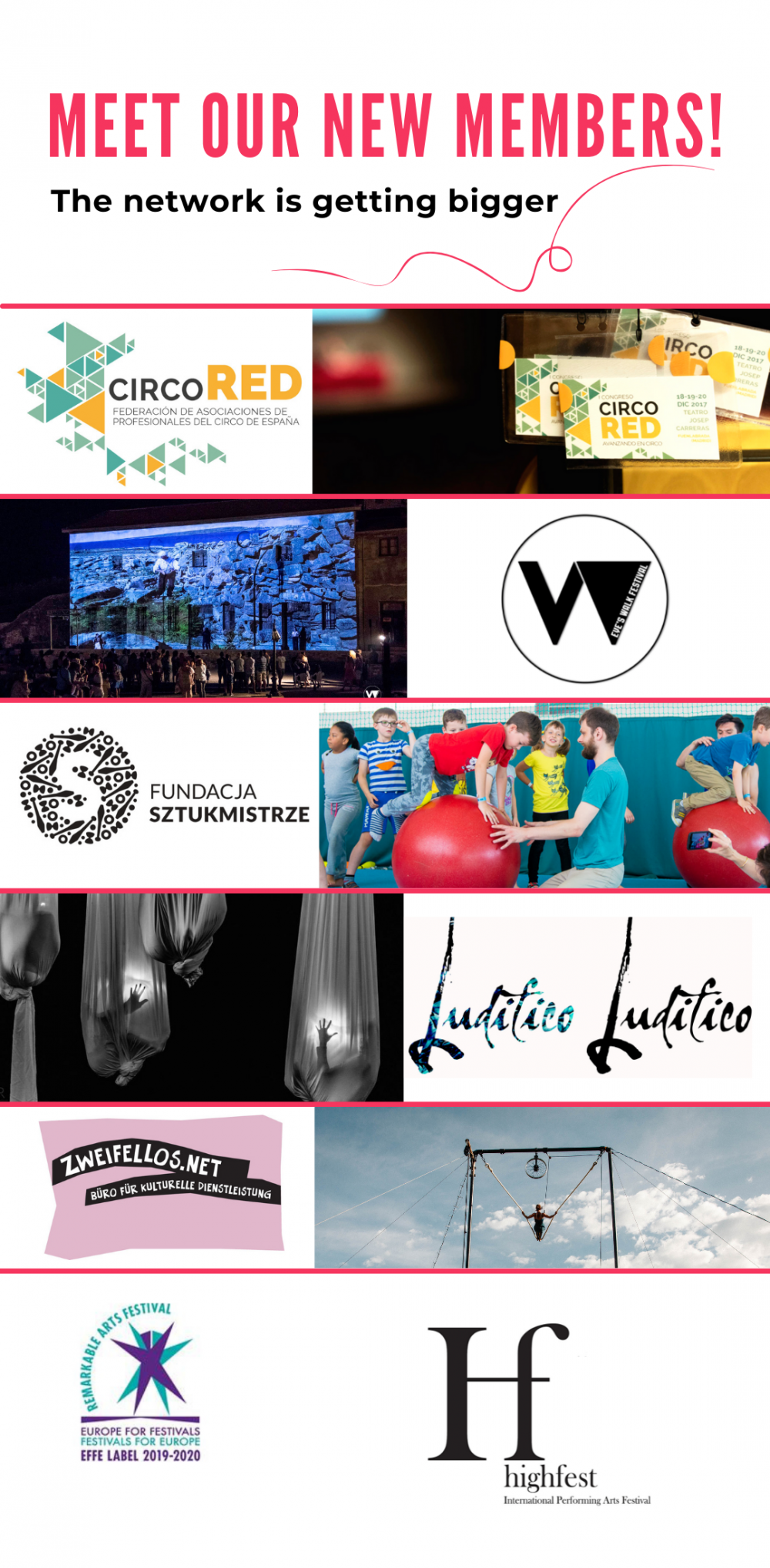 MEET OUR NEW MEMBERS!
Circostrada is both happy and proud to introduce you its 6 new members:
CircoRED is the Federation of Professional Circus Associations in Spain.
More than 700 professionals make up this network that covers several circus styles and different show formats for all types of venues and audiences. Our aim is to promote the professional development of circus in Spain, bringing it closer to the spectators, reclaiming its presence in circuits and festivals, promoting it abroad and defending its presence in cultural public programmes. 
For more info, visit their website
CINESTHESIA & EYE'S WALK DIGITAL FESTIVAL (GREECE)
Since 2014, the Social Cooperative Enterprise "Cinesthesia" runs Eye's WalkDigital Festival on the island of Syros, in Greece and internationally (Italy, Iran). The festival connects to the unique architectural legacy of a city by creating a layer of digital works (projections, installations, performances) that enable to strengthen the link between the public space and the local community. We experiment with art in public space in order to awake and mobilize individual and collective consciousness in relation to social responsibility and social change. Storytelling and narratives are key to the work as is the Greek word "Eros".
For more info, visit their website
SZTUKMISTRZE FOUNDATION (POLAND)
Sztukmistrze Foundation is a Polish NGO devoted to the promotion and development of contemporary circus culture. Our focus is three-fold: artistic (performance and short acts production and staging), educational (circus pedagogy projects and professional artist education) and community-based (organisation of circus festivals and networking).
For more info, visit their website 
LUDIFICO CIRCUS ARTS DEVELOPMENT CENTER (SERBIA)
​Ludifico Circus Art Development Center was established in 2012, and since then our mission is to promote circus through culture and art, the affirmation of the performing arts and the creation of an independent art scene, providing conditions for the education of children and youth. We achieve these goals through the education and production of local artists, as well as through international exchange. Our vision is to lay the foundations for the development and affirmation of circus through education, international cooperation, productions and co-productions.
For more info, visit their website (currently in maintenance)
With its two partners Kathrin Bahr and Julia von Wild, zweifellos.net is an organization for cultural services based in Germany, whose main focus is outdoor arts. They are the artistic directors and producers of the festival ParkPerPlex in Norderstedt and the well known festival tête-à-tête in Rastatt, which is the biggest festival for outdoor arts in Germany. 
For more info, visit their website
HIGH FEST was established in 2003 and is organized in the first decade of October in Yerevan (Armenia). Annually, the festival hosts more than 35-40 companies from 25-30 countries, welcoming 400-500 participants and guests. The programme features an Armenian showcase to show the palette of contemporary performing arts in Armenia, a special Iranian focus and a strong educational programme. Since 2006, HIGH FEST is the main festival in the territory of the ex-USSR countries (outside of Moscow). In 2019-2021, the festival received the EFFE label delivered by EFA and now counts among the best 24 festivals in Europe. Besides the main festival, a spin-off called HIGH STREET - International festival for street theatre and circus is organised outside of Armenia in many countries on an outsourcing basis.
Fore more info, visit their website
more news in this category
WHO WE ARE

WHAT WE DO

THE NETWORK

Coordinator

Funders