Primary tabs
CIRCOSTRADA IS RECRUITING HIS/HER FUTURE EUROPEAN PROJECTS ASSISTANT!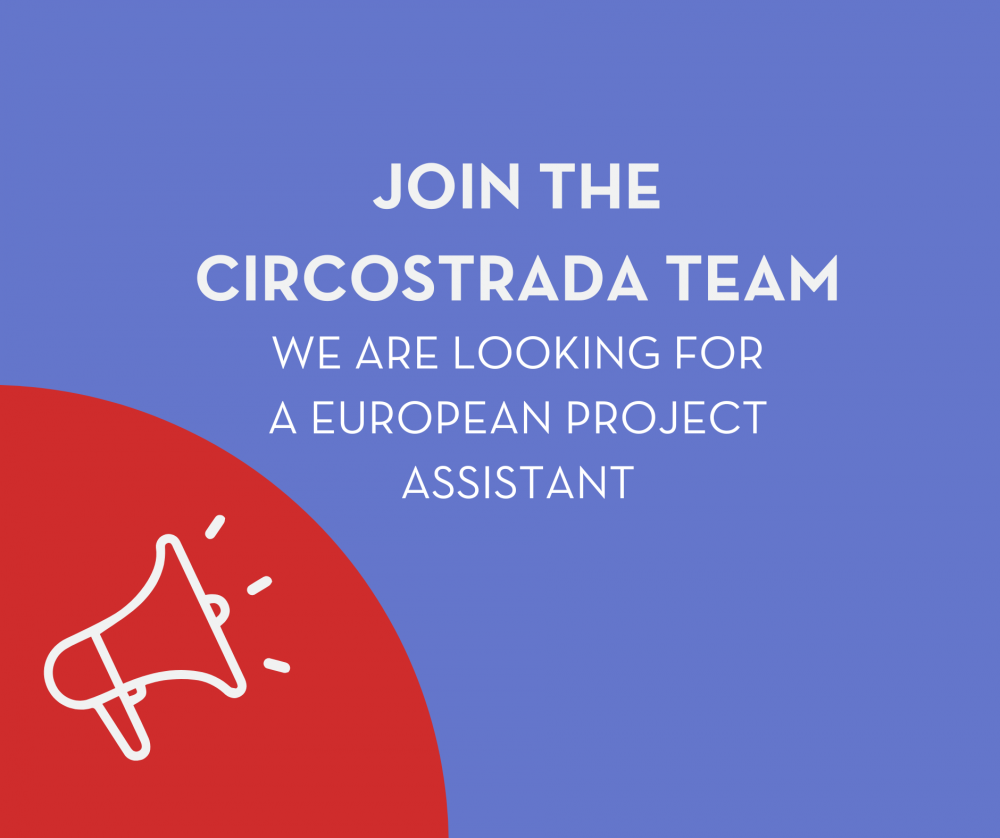 INTERNSHIP OFFER / PERFORMING ARTS / EUROPEAN COOPERATION: JOIN THE TEAM OF CIRCOSTRADA NETWORK!
You would like to gain professional experience in the performing arts field? You enjoy working in an international environment? You are keen on dealing with production and communication? You are fluent in English and French? This position is for you! Join the team of Circostrada network by becoming the future European Projects Assistant.
In the frame of this position, your missions will be focused on two main areas:
SUPPORTING THE PRODUCTION OF EUROPEAN EVENTS
You will assist the coordination team in the production, logistics organisation and budget monitoring of the actions implemented by Circostrada, in particular:
- Bounce - a mentoring programme for contemporary circus and outdoor arts workers;
- Global Crossing - in partnership with Paisaje Público in the frame of Cielos del infinito festival (Punta Arenas) and Santiago a Mil festival (Santiago de Chile), field trip to Chile around contemporary circus and outdoor arts (January 2023);
- Annual General Meeting in Split (HR) - in partnership with Room 100, Cirkorama, Cirkusfera, in the framework of Peculiar Families festival - annual general meeting of the network (April 2023);
- Spark - in partnership with Le Plus Petit Cirque du Monde, Eleusis European Capital of Culture, Institut français - laboratory focused on place-making and creation in the public space (June 2023).
COMMUNICATION AND PROJECT PUBLISHING
- You will help write and translate bilingual content (French/English) aimed at promoting the network's missions, actions and news, as well as those of its members in both sectors (website, newsletter, social networks, etc.).
- You will also be involved in producing and monitoring the creation of the various online resources published by the network such as publications, thematic guides, blog articles, observation and data-visualisation tools and business information in particular.
- You will be regularly involved in coming up with and recommending measures to promote these various publishing and resource objects and make sure they circulate well.
- You will be required to coordinate the social networks of the Circostrada network (Facebook, Twitter, Instagram, LinkedIn) and to participate in the implementation of various communication campaigns.
- You will also contribute to the creation of professional mailing lists in order to optimise the impact of the network's external communication.
6-month internship, full time, internship agreement required.
Internship starting date: Between January and March 2023
Closing date for applications: 28 November 2022
more news in this category
WHO WE ARE

WHAT WE DO

THE NETWORK

Coordinator

Funders