Public Space, Private Life – Interview with Azadeh Ganjeh with Sepehr Sharifzadeh
An Article written by
Azadeh Ganjeh, Sepehr Shafirzadeh
If the safety of the individual depends on the health of the collective, how does public space (and performance in it) contribute to a cohesive society? Producer Sepehr Sharifzadeh speaks with the Iranian playwright and director Azadeh Ganjeh, whose work in site-specific and immersive theatre sees public space as a collective extension of private life. 
The interview was a part of the FRESH STREET#4 publication coordinated by Circostrada and edited by John Ellingsworth, in relation to the FRESH#4 - International Seminar for the Development of Street Arts co-organised in November 2020 by Circostrada, ARTCENA and FNAS in Turin, Italy. (Re)discover it on our blog now!  
How did you enter this realm of theatre in public space?
I began my education in civil engineering but I was working in theatre even then, while I was studying. There was a general belief that you couldn't live off of art, so on the recommendation of my family I studied civil engineering to have another source of revenue that would allow me to work in art freely, without money as an obstacle or influence. As for public space, I always liked to wander the city. I love the city and I love to be free there — something which, in many ways, is not always possible. But then I discovered that it's possible to perform in the street. Theatre led me to work in urban spaces because it was important for me that theatre reach everyone.
In the early 2000s, performing outdoors was not a common thing to do in Iran. We did have some street theatre, but mainly within the off programmes of larger festivals, and the very spirit of street theatre — political voices — had been taken away from it, making it more or less a pedagogic theatre. We lacked polyphony in our street theatre. By 'we' I mean different parts, or classes, of society. We were able to go to the theatre and there we'd feel somewhat intellectual, feel that we were connected, that we were a collective, but it was a collective that wasn't really growing or bringing in new members.
So I thought both that we had to reach other people, and that we shouldn't limit ourselves to being inside theatres. Going to the street and performing in public places was also very important for me because my work was connected to social issues. I wanted to talk about what is current, what is real, what is happening to everyone.
I also knew that I needed to be in dialogue with people on the street. Not in a one-way communication, where people just receive your message, but through performance that lets the public cooperate and interact. Then you, the artist, can learn something, and the public in turn can give something to the event. I found the idea of Forum Theatre was very well suited to that. That's why I began my work in community theatre with Forum Theatre. I tried to approach public space very honestly, not trying to manipulate it but being very direct. It's theatre and it needs your collaboration. For me, it was important that we found our voice, and those other participants in different regions of the city, and from across society, found theirs.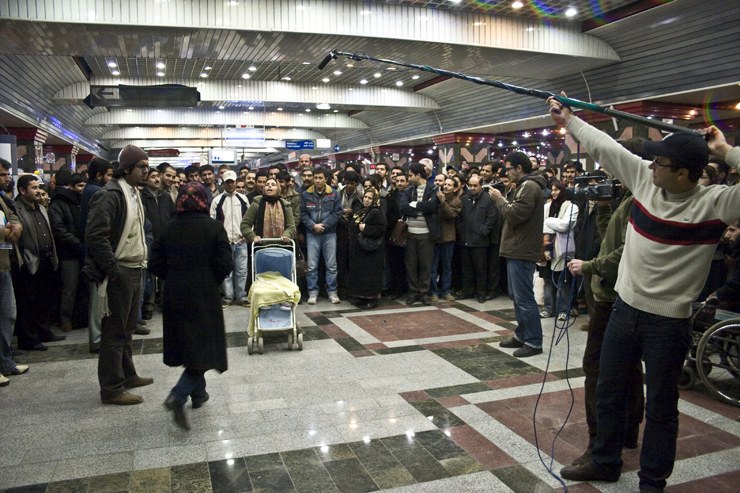 How do you ordinarily find your ideas? Or how do they come to you as a city wanderer?
It always begins with a dilemma, with something that I think we have to talk about. I would say that I mainly work with forbidden memories — events in our sociopolitical history which, for many reasons, are not being discussed. These are collective memories held by many, and yet talking about them, and reminding people of them, is forbidden. By working with these forbidden memories I try to make a collective memory for the city. I feel that we are distracted, that we are shut out from society. We are limited and we're also limiting ourselves. I also think about how I should reach people, how they can participate, how they can relate through theatre to an issue. And then I think about the form. For example, when I wanted to talk about the issue of polygamy in Iran — as a law had been approved in parliament to say that a man could marry another woman without any consent from his wife — I created the piece Always passes by you… I can't know what other people think, so I decided to create an event where people could come and talk freely, to share their personal voices and ideas in regard to those laws, and to share their experiences through the two formats of Augusto Boal's Forum Theatre and Invisible Theatre. So my way of working is that I first think about an issue, and then find a way to share around it. By thinking through this, and about what kind of collaboration it needs, I find the form, the aesthetic. Is it narrative? Is it dramatic? Is it post-dramatic? We Iranians love to talk to each other, we love to share. For example, we have this system of shared taxis — private spaces that are also public. They are a very important part of our lives, and so I thought this was a place where we could meet the various parts of society, meet one another, and I decided to create a show there. That became Un-Permitted Whispers.
What are the challenges of making, and getting official permission for, theatre