Jay Pather, Impressions from a keynote
An Article written by
Jay Pather
25 years after apartheid, Cape Town remains a divided city. (Re)discover the extracts from the keynote of Jay Pather, curator of the festival Infecting the City, in which he asks what it might mean for South Africa to remake its place and identity.
The article was part of the FRESH STREET#3 publication coordinated by Circostrada and edited by John Ellingsworth, in relation to the FRESH STREET #3 – International Seminar for the Development of Street Arts co-organised in October 2019 by Circostrada, ARTCENA in partnership with Galway 2020 European Capital of Culture and ISACS in Galway, Ireland.
The theme of place and identity is both compelling and vexing. As human beings we intrinsically believe in a good story — one that has a beginning, a middle and an end. When it comes to place and identity we expect progress and transformation, leading to common understanding and peace. We believe that, like any good story, our societies will simply get better. And so it is deeply confounding to the soul, and indeed shocking to the human spirit, when there are all the signs of a deepening crisis around rights and economic inequality, brought on by a voracious global economy that serves a minority, and in many instances a tiny minority.
In the midst of this there has been an attack on migration, which has been a feature of human lives since the beginning of time. In a good story one expects fluidity of borders, greater sharing amongst different kinds of people... but this is under attack. The growing nationalism is not only present in Europe and the United States, but can be found in such places as Brazil, Israel and India. Now, nationalism is not such a bad thing when affirmation of heritage is needed, but our current crises have brought about a reactionary and forcefully entrenched nationalism, sparked by selfish interests and pedalled through ignorance and fear. When common consensus is so hard to achieve, the effect on all sentient beings is devastating; and so we have entered the age of the Anthropocene, when what we have done to the planet and our ecosystems is impossible to reverse. Coming from Southern Africa, where 400 people just died in massive flooding, the idea of identity becomes a luxury when place has been so brutalised.
There are many contradictions within this debate. With modernity has come globalisation, which has opened up migration. And yet migration has brought the closing and tightening of borders, and an upsurge in the kind of nationalism that makes a mockery of the very notion of diversity that was meant to be at the centre of globalisation. I believe it is these complexities, contradictions and hypocrisies that artists are best equipped to deal with, because performance is about mutability, embodiment, critique, and an intersectional vision that can cut across borders, race, gender, class and sexuality. Understanding the momentum of change, art has the tools to open up identity as malleable, flexible, complex — not limited to any one thing.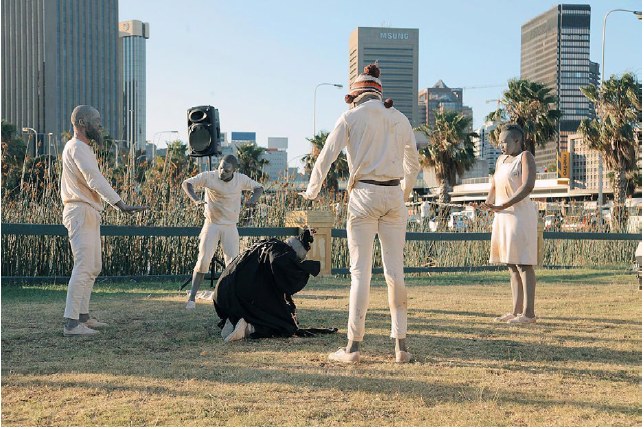 But I will leave the world of Europe and narrow down on South Africa, the country of my birth, where place and identity have been central to our national debates since 1994 when Nelson Mandela came to power. For colonised countries like mine, the notion of modernity was not something that arose from indigenous nations but was something imposed on us by the West — as was globalisation, first embarked on, not only through migration, but through the forceful takeover of land, of identity, of name, of culture, of our own nationalisms.
In 1994, South Africa gained an independence that was hard won. As Nelson Mandela became President, South Africa gave the world a gift in the form of the Truth and Reconciliation Commission (TRC), a way to bring the oppressor and the oppressed together. It was tempting in its neatness and dramatic resonance: climatic, with quick character turnarounds, grand gestures of compassion, and needed endings. It was going to open a way to reclaim place and identity; to address, in short, apartheid. However, apartheid was complex; it was immense, unending, systemic, multimodal and pervasive. It lay not in what individual dictators did, but in what ordinary people did to other ordinary people.
Most of all though, the TRC glossed over the fact that South Africa's wealth and land remained pretty much where they were under apartheid. Reparations were not spoken of, land and wealth were not redistributed. Equity among rich and poor, black and white, has still not been achieved, a quarter of a century after Nelson Mandela became President. Today the statistics speak for themselves: our unemployment rate is 30%, and 65% of black people live in poverty. From a global perspective, our country lies locked in the world economy. At the height of apartheid our currency was equal to the American dollar; when Nelson Mandela came to power our currency dropped to twelve rand to the dollar. Land was not re- distributed, keeping our markets fragile but safe. Fearful of redistribution of land, fear- ful of what might happen to our economy, white South Africa owns exactly what they always did during apartheid.
Infecting the City, as a festival that takes root firmly in the centre of Cape Town's business district, tries to do something with this. 'Infection' is loaded with negative connotations. The body, like the city, is a sacrosanct yet contested space, sealed shut with skin yet porous and vulnerable. The act of wilfully infecting a city is a playful intervention on etymology and a conscious act to inform place and identity. Cape Town ranked the international winner of Trip Advisor's Travelers' Choice Awards, and is considered the best destination in Africa by the World Tourism Awards. It is also a city where apartheid was born, and the remnants of it have an enduring presence in a topography which, 25 years after apartheid was supposed to have ended, still separates the white suburbs and the black townships.
Many of the festival works speak directly to this. In 2014, Phumulani Ntuli (with Nkateko Baloyi and Pule Magopa) created Umjondolo, a piece that metaphorically brought the township to the suburb by recreating shack settlements in suburban Cape Town. In 2013, Tebogo Munyai went to Thibault Square in the Central Business District and put up shack-like structures with bullet holes in the walls. On the inside were performers, but you couldn't see them unless you looked through a bullet hole, and most of the time you could only see part of what was happening. You felt like a voyeur, and it was a very intelligent evocation of where we are now — looking in, but not joining in.
Another aim of the festival is to take the Business District, which is alienating for so many South Africans, and make it familiar — make it into a space where you can eat, smell and taste. There was one piece where a scent artist, Tammy Frazer, infused the public fountains with smells of the forests. Another artist, Katie Urban, in a work titled Processional Walkway, created a rose petal carpet that emerged from Cape Town station, the place where most of the working class, living far away in the townships, come in for work each day. She created these red petal carpets that led from the station into the middle of the city.
There's also a lot of work around memory. It's not often talked about, but Cape Town is a place where slaves were bought and sold. Many of them came from Indonesia and Malaysia, but also from parts of Africa, and their bones are buried in various places. In 2012, Nicole Sarmiento, Memory Biwa, and Tazneem Wentzel did a lot of work trying to find where these bones were and as a result created The Callings, a series of on-site ritual performances spread around the city. In another on-site exhibition, artist Haroon Gunn-Salie created Witness in District Six, an area that was demolished during apartheid. The government had replaced the old buildings with new houses, but of course you can't just put in a new house; once you tear down a building you tear down a community. They'd built these new houses, painted white, and very few people wanted to move back. So, Gunn-Sa- lie created a piece about these empty houses by placing single objects in empty white-walled rooms — a tin mug, a frozen porcelain cat, a prayer mat, an abandoned taffeta ballgown — reminding us of a community that we will never get back again.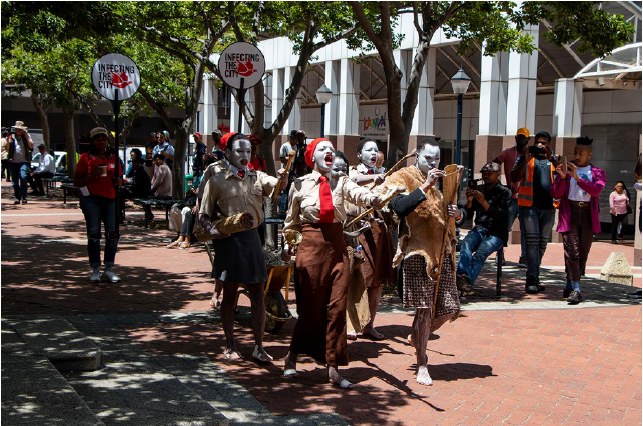 Many artists are also working with remaking place on a more obviously positive note. Neo Muyanga did an operetta in Cape Town's Grote Kerk, a church that was one of the bastions of apartheid in South Africa, located across the road from where the slave quarters, the Slave Lodge, used to be. He worked with a choir from Khayelitsha township, and, using a poem by Antjie Krog that treated the theme of reconciliation, created some extremely moving and beau- tiful performances around the pain that is caused, the betrayal and the healing. People were crying because of what this church re-presented, and because of what the piece was trying to say from inside it.
This brings us to a final strand for the festival: resilience and dreaming; artists talking about place and identity as something achievable through adaptation and resilience. One example of this is the contemporary artist and academic Khanyisile Mbongwa, who has been developing work around iRhanga — the pathways that thread among homes in black townships.
Evoking the theorist Jordache A. Ellapen, who sees the township, prevented from being either fully modern or rural, as a hybrid space, Mbongwa constructs the alleyway as a liminal space within this liminal space — a space, as Mbongwa writes, within Frantz Fanon's concept of a 'world without spaciousness'. She continues: 'In many cases township spaces are represented as temporary and uninhabitable. But how does the existence of the alleyway enable much more complex dialogues about the paradoxes of black, lived experience? If townships are an apartheid project, where are the spaces of resilience that people have carved within them as these spaces continue to seem permanent in post-apartheid South Africa.' She argues that the alleyway is precisely such a space that enables black radical imagination.
Mbongwa also writes about a dance form called Pantsula that has developed in the townships and spread through South Africa: 'Pantsula centres heavily on footwork — complex, accelerated, or slow-motion — as it is the feet that allow you to run, to work, to walk to the train station. In Pantsula, one moment one is walking fast, the next one is running, jumping, then coming to a sudden halt. It's the silent revolution of those who dared themselves to go beyond an abject space that was designed to try and make them passive and docile.'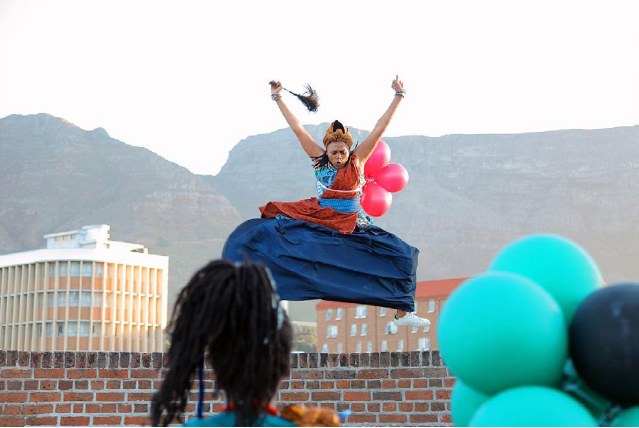 The range of works that Infecting the City programmes embodies this social velocity — the pace of change, the reality of collapse, and the rebuilding and remaking of place and identity in our societies. But the desire for stability in our spaces and solace in our homes continues to be a challenge.
One edition of Infecting the City closed with a work by Aeneas Wilder called Under Construction. It was built in District Six, the site of forced removals during apartheid, and consisted of the painstaking construction of a complex yet fragile wooden structure. The pieces were not bolted together but were self-supporting and precariously balanced. After days spent creating the work, on the final day Wilder ceremonially kicked it, destroying it in seconds.
Such works remind us that in South Africa the idea of making place — at least with the materiality of something solid, long-standing, bolted-down and firm — still eludes us. But they remind us as well that something in the alchemy of live art, public and public spaces is still subject to feverish interrogation and infectious reimagining. What we experience in these works may be the turbulence of a deeply unsettled society, the aftershocks of the catastrophes that have come before, or predictions of what is to come, but for now these nudges and nods to how place may be remade are overwhelmingly performative and temporal and yet powerful and enduring. In their temporality, all these works can really do is ask us to confront the weighty and pressing need for something more integral to turn to in our global and local societies. A mirror and flame to ignite more significant transformations in power and to afford all of our citizens the luxury of a place that will not again shift, displace and expel; and identities that allow for multiplicity, choice, tolerance, self-determination, respect and dignity.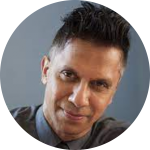 Jay Pather is an associate professor at the University of Cape Town, director of the Institute for Creative Arts (ICA), curator for Infecting the City and the ICA Live Art Festival, and artistic director of Siwela Sonke Dance. Recent addresses include for Festival of the Future City (UK), Independent Curators International (New York) and at the Haus der Kunst (Munich). Recent articles appear in Changing Metropolis ll, Rogue Urbanism, Performing Cities, Where Strangers Meet and the book, Transgressions, Live Art in South Africa.
WHO WE ARE

WHAT WE DO

THE NETWORK

Coordinator

Funders