public
visible
Presentation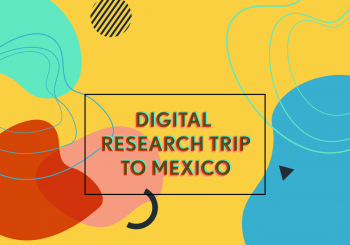 Let's travel differently!
The next Research Trip of the network, initially scheduled from July 13-19 to Mexico City and Guadalajara, organised in partnership with Festival Periplo is cancelled due to the COVID-19 pandemic. lnstead, it will take the shape of a digital journey.
You can already book the dates in your calendar and prepare yourselves to embark on this journey with us! 
From July 27 to July 31, you will have the opportunity to discover an eclectic sample of resources each day: publications, videos, podcasts, illustrated map, magazine, photo exhibition... We'll do our very best to make you feel away in Mexico for an entire week, and we engage ourselves to provide rich, diverse and original contents, to give you a proper overview of the Mexican circus and street arts sector. 

Our partners


Periplo Desarrollo y Cultura AC. is an independent organization with circus projects such as the Periplo international circus festival and the Periplo Forum cultural and artistic center. They live in Guadalajara, the third largest city in the country and self-proclaimed "circus land".
Ohtli Production A.C., is a younger production structure, but very active in the field of artistic exchanges between Mexico and Europe, especially in the field of circus and contemporary puppetry.
Stay tuned for the release date and play the game with us!

More information to come
public
visible
DAY 1

ENJOY THE RIDE!
On the very first day of this digital Mexican journey, we've been thinking BIG with our partners! Indeed, we'll be taking you through three different cities for three very special "CircoTours" in Mexico City, Guadalajara and Monterrey! You'll have the opportunity to discover in videos the main circus spots, venues, artists, organisations, and much more! Sit tight and join us for this unusual circus tours. Change of scenery guaranteed ;-) 

VISUAL MAPPING OF THE SECTOR
After this exciting ride, you will be able to visualize the Mexican circus and street arts landscape at a glance thanks to a colorful illustrated map of the field! Festivals, companies, schools, organisations: all in all, there will be over 40 key entities represented on the map, to give you a nice and comprehensive overview of the Mexican ecosystem for circus and street arts! That will come with something else but we won't tell you what quite yet… A little patience! 
Stay tuned... You'll discover everything on July 27!
public
visible
DAY 2

CIRCOSTRADA PODCAST #1 
Keep your ears wide open!
On the second day of our digital trip, we'll be pleased to present you a brand new format: in a few weeks, you'll have the chance to listen to the first Circostrada podcast (recorded in English)! Together with Periplo and Ohtli producción, we've asked 4 circus and street art festival directors to share their perspectives and to answer both urgent and inspiring issues. Between local and international audiences, production and fair economic redistribution concerns and artist valorization, find out more about the situation in Mexico through authentic, critical and empowering testimonies. 
The moderator and interviewees' identities shall remain secret for now, be patient we'll tell you who are the faces behind the voices in course of July. 

PHOTO REPORTS 
If you think we've stopped there, you are fooling yourselves ;) 
We will also publish two photo reports, strongly linked to Mexican artistic production. A great opportunity to discover the exhibition by Julia Sanchez, entitled "Dialogues between Science and Circus", that we were meant to visit in Guadalajara, and the "murales" of the City of Queretaro analyzed by Edgar Sanchez.
STAY TUNED... YOU'LL DISCOVER EVERYTHING ON JULY 28!
public
visible
DAY 3

CIRCOSTRADA PODCAST#2… We give the mike to Mexican artists!
Since one piece of good news never comes alone, we continue building on that progress with the launch of our 2nd podcast (recorded in English) dedicated to 3 Mexican artists working in circus and in the public space: Jade Zerón, Aziz Gual, and Raúl Sisniega.
Get ready for an immersion into the work and projects of these original artists. It will give you an interested perspective into what it is to be an artist in Mexico working in and dealing with the public space, ensuring the sustainability of a project, and many other facts and anecdotes to provide a rich and meaningful podcast.

The journey continues with a new video putting artists in the spotlight
Don't leave us yet, you would be missing out on another precious content! Indeed, in addition to the podcast, you will also have the opportunity to discover 10 established circus/street art companies and artists in Mexico in a short video.
STAY TUNED...YOU'LL DISCOVER EVERYTHING ON JULY 29! 
public
visible
DAY 4

IN NEED OF INSPIRATION?
For the 4th day of our digital trip, Periplo and Circostrada have put together a selection of 10 artistic projects led by emerging artists reflecting the diversity and dynamism of the Mexican circus and street arts sector.
Gathered in a colorful and "off-the-wall" magazine, the artists have grasped this space of free expression, and turned it into an authentic artistic item.
STAY TUNED...YOU'LL DISCOVER EVERYTHING ON JULY 30! 
public
visible
DAY 5

"CIRCULATION : round trip conversations on circus and urban arts"
Presentation
This webinar aims to explore the conditions under which the different aspects of circus arts and urban arts (including street arts) have developed. The themes will allow us to initiate a reflection on the current status of these two sectors, marked by a long tradition but paradoxically long removed from any visibility on the contemporary scene.
Objectives 
To understand what is at stake in the development of contemporary circus and urban  arts in Mexico and discover both genealogy. 
To analyze the relations between Mexican public policies and artistic creation and the ensuing challenges.  
To discover how circus and urban art professionals invent innovative practices to mitigate the socio-political and economic context in Mexico, characterized by job insecurity, oblivion and artistic emergency. 
Target audience  
This webinar is designed for all circus and urban arts professionals from Mexico and beyond, who wish to understand and explore the artistic landscape of Mexico and its particularities. 
Participation 
The introduction and all 3 round table are open to all, with no limit of participation. 
You can navigate through all 3 sessions, decide to take part in one of them or divide your time between the three. 
We'll be publishing the only and public link to attend the webinar int he course of the July, stay tuned! Let's meet online on July 31st to attend the webinar.

RESOURCE
To accompany the webinar, Charlotte Pescayre, Ethnologist and contemporary circus tightrop wlaker artist will propose an inspiring article "Diagnosis of the Mexican circus and urban arts: continuity in the past and the present". 
An ideal way to introduce you to the Mexican artistic challenges, aesthetics and history. 
In order to access this section, you must enter the password that has been sent to you per email.
WHO WE ARE

WHAT WE DO

THE NETWORK

Coordinator

Funders