SPARK - cross-sectorial laboratory
public
visible
WHAT IS SPARK?

WHAT IS IT?
Spark is a cross-sectorial laboratory gathering participants from different backgrounds and disciplines, to focus on a specific contemporary circus or outdoor arts related - topic, with the primary objective to bring concrete solutions or responses forward. It is hosted by a network member and is run over three days.
Spark provides an opportunity to connect contemporary circus and outdoor arts workers, along with artists and stakeholders from other disciplines (architects, urbanists, local elected officials, et al.) to foster cross-sectorial collaborations and the circulation of ideas, knowledge, practices, experiences, and approaches.
Spark contributes to furthering the advocacy work of Circostrada on key sectoral issues and aims to lay the foundation of an open advocacy platform for contemporary circus and outdoor arts workers.

JOIN US IN TILBURG FOR THE FIRST EDITION!
The first edition of Spark will take place from April 28th to 29th 2022 in Tilburg (The Netherlands), co-organised with Festival Circolo. The event will be dedicated to discussing and imagining the future of big tops and exploring new possibilities for the mobility of circus tents and big tops, while sharing knowledge about innovative practices. Spark will bring together a small group of participants combining Circostrada members, artists (invited by Circostrada members), architects and designers who will exchange best practices, experiences and brainstorm collectively to come up with a list of recommendations to circulate within the field at local, national, and European levels.    
*Spark is an event accessible upon invitation only.
public
visible
PARTNERS
Partners: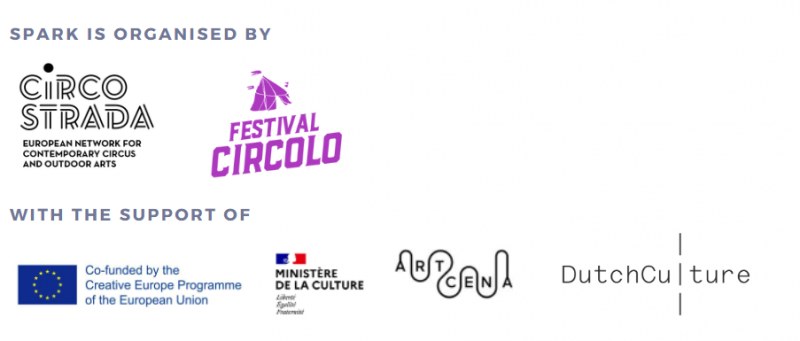 In order to access this section, you must enter the password that has been sent to you per email.
WHO WE ARE

WHAT WE DO

THE NETWORK

Coordinator

Funders