public
visible
Presentation
¿Y QUE CHUCHA HACEMOS AHORA CON EL ARTE?
What the hell are we doing with art now? 
The network is organising an international field trip to Chile (Punta Arenas, Santiago de Chile and Valparaíso) for its members* from January 13th to 22th 2023.
Co-organised with  Paísaje Público in the frame of Cielos del infinito festival (Punta Arenas) and Santiago a Mil festival (Santiago de Chile) this trip is meant to connect with the Chilean contemporary circus and outdoor arts scenes through key visits and meetings. 

You are interested in participating? Send an email to Laura Jude (laura.jude@artcena.fr). 

Circostrada members can benefit from mobility grants for this trip. Please contact the coordination team (laura.jude@artcena.fr) to know more about it. 
* This activity is open to Circostrada members only (upon prior registration). 
public
visible
Programme

Take a look at programme for this 2023 Global Crossing edition. 
public
visible
PARTNERS

PARTNERS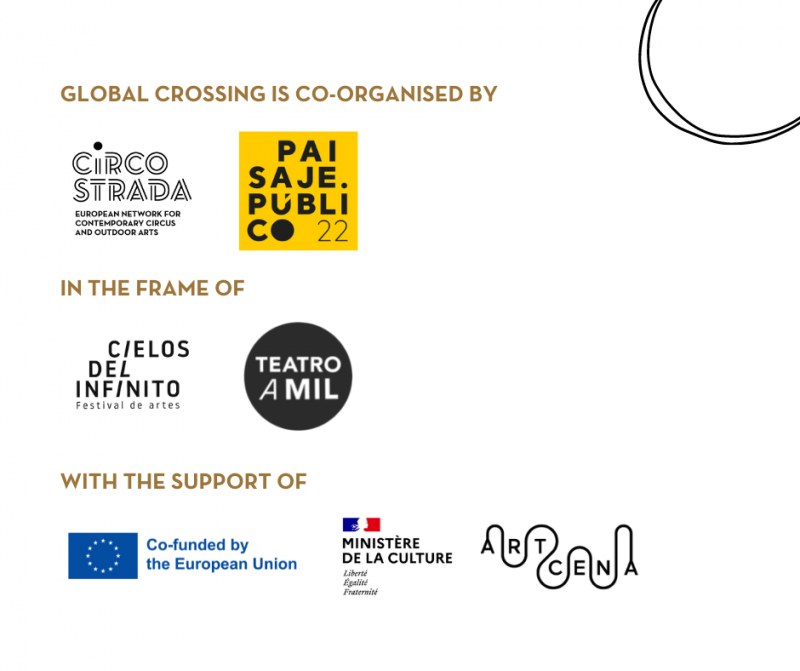 In order to access this section, you must enter the password that has been sent to you per email.
WHO WE ARE

WHAT WE DO

THE NETWORK

Coordinator

Funders