General Meeting at cirqu' Festival
public
visible
PRESENTATION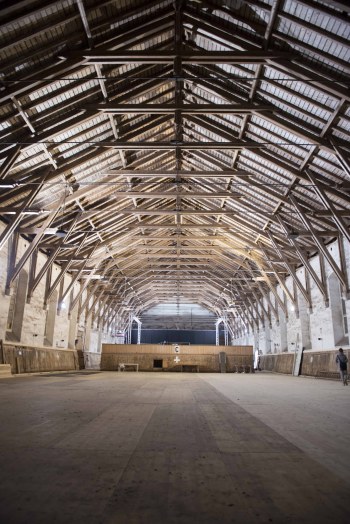 The next General Meeting of the network will take place in Aarau (Switzerland) from June 6 to June 8, 2019, co-organised with cirqu'Aarau and Pro Cirque, in partnership with the Zirkusquartier Zurich and in the frame of the cirqu' festival.
It will be hosted, among other places, in the Alte Reithalle Aarau, a unique place on its way to become a cultural house dedicated to theatre, classical music, dance and contemporary circus. This year's edition of the cirqu' festival, which showcases the Swiss and international circus scenes, will be the last event programmed there before the restoration work begins so it's a not-to-be-missed opportunity!
On the agenda for the Circostrada members: a rich artistic programme with a focus on Swiss but also international companies! They will also have the chance to visit the Zirkusquartier Zurich located on the renown Kochareal, the biggest squat in Zurich, have some time to exchange and work on the network's projects, have a taste of the local food, and take part in many other parallel activities. These activities include CS Boosters, which are thematic workshops to keep learning and refresh perspectives, a presentation by ProCirque on the Swiss Circus Repertory, and one by Pro Helvetia to understand the circus and street funding landscape in the region. 
This General Meeting, focused around the concept of time, which is central in any creative process, is a moment for the network's members and partners to discover a new artistic landscape and be reflective about the context of circus and street arts in Europe. If you are interested in learning more about this event, have a look at the full programme.
public
visible
DOWNLOAD THE PROGRAMME
DOWNLOAD THE FULL PROGRAMME OF THE GENERAL MEETING
public
visible
Practical Information

A travelling programme!
This General Meeting and its related activities will take place in two cities of the German-speaking part of Switzerland. Throughout the programme, you will have the chance to explore the local environment and discover its main venues for circus and street arts. 
 Aarau: The GM will take ground in this beautiful small city, full of museums and defined architecture.
Zurich: More than being the center of all financial and bank affairs, Zurich is a vibrant city that also holds a heart full of art and history surrounded by wonderful landscape.
Please find below the general practical information regarding the traveling options and the accommodation during the General Meeting. 
How to get to Aarau?

By train

TGV trains or Deutsche Bahn to Basel SBB or Zurich HB
From there, take a local train to Aarau (passing 3 times per hour)
For more info and tickets, please go to the SBB website.

By plane

From Zurich Airport to Aarau
At the airport, follow the signs to the train station. Get any train to Zurich HB. There, change for a local train to Aarau - always leaving XX:03 (direction: Genève Aéroport), XX:08 (direction Aarau or Basel), XX:38 (direction Aarau or Basel), arriving in Aarau approximately 25' later.
For more info and tickets, www.sbb.ch/en/
From Euroairport Basel/Mulhouse/Freiburg to Aarau
Make sure to leave the airport on the Swiss side. Take the bus Nr 50 to Basel SBB (15'), and take a connecting train to Aarau (only direct train leaving XX:43 from Basel), arrival in Aarau 38' later.
You can also take a train to Olten, and there, change for a train to Aarau.
For more info and train tickets, www.sbb.ch/en/
The tickets for the bus can be paid directly on-site.

By car

The festival centre (Alte Reithalle Aarau) is located at Apfelhausenweg 20, 5000 Aarau
Parking: www.parking.ch/de/parkings/aarau

From the Aarau station to the festival centre
Leave the station in direction city; cross the street Bahnhofstrasse, and turn left. Once you've reached UBS bank, turn right into Kasernenstrasse. Go straight until the fence of the military area, and take the small gravel path on your left to get to the festival centre.
Partner Hotels for the General Meeting
We have a list of partner hotel to make sure you would have a cozy place during your stay. You can also choose to stay in another accommodation of your own choice.

Accommodation Funding // Pro Helvetia 
Pro Helvetia - a public-law foundation - has a great interest in international cultural exchange and the dissemination of Swiss productions abroad. Because the programme of the GM focuses on Swiss shows, Pro Helvetia is happy to fund 1 night per Swiss show that foreign programmers see during the meeting (if you follow the GM programme, this makes a funding for 2-3 nights per programmer). Please note however that Pro Helvetia only pay for 1 programmer per member organisation. 
Are you a programmer or representing an institution programming performing arts, and therefore eligible for this Pro Helvetia funding? Please click HERE; and fill the form. 
Do not hesitate to contact Anouk Gyssler (generalmeeting@cirquaarau.ch) for any question you may have! 
If you are not eligible, you can find below a couple of partner hotels that you can book independently.

Hotel Aarauerhof * * * / Aarau
Directly located at the main station of Aarau and 3' walking minutes to the festival centre, this hotel is your most central option. The number of available rooms is very limited. Breakfast is included.
Prices according to daily rate
Booking procedure: via Website, email or phone
Address: Bahnhofplatz 2, 5000 Aarau
Contact information: +41 62 837 83 00 or by email aarauerhof@sorellhotels.com

Restaurant Hotel Bären * * * / Suhr
This hotel is easily accessible from the main station of Aarau by a 5 minutes ride by local train (leaving the main station every 15-30 minutes until approximately midnight, a bit longer on the weekends) or by a 20 minutes bus ride. Breakfast is included. Free parking on-site.
Prices according to daily rate
Booking procedure: email or phone
Address: Bernstrasse-West 56, 5034 Suhr
Contact information: +41 62 855 25 25 / mailbox@baeren-suhr.ch / Website

Hotel Aarau West * * * / Oberentfelden
You can reach this accommodation by a 5-minute ride by local train and a further 10 walking minutes from Oberentfelden Engelplatz directly to the hotel entrance. The hotel is surrounded by its own golf course. Breakfast is included. Free parking on-site.
Prices according to daily rate
Booking procedure: email or phone
Address: Muhenstrasse 58, 5036 Oberentfelden-Aarau
Contact information: +41 62 737 01 01 / hotel@aarau-west.ch / Website
public
visible
General Meeting Venues
In the frame of the General Meeting, you will have the opportunity to discover artistic performances within two main venues: the Alte Reithalle Aarau that will be the main location of the meeting, which is also the centre of festival cirqu', and the Zirkusquartier Zürich that you will be able to visit on Friday 7th (DAY 2).

Alte Reithalle Aarau

This former riding hall remodeled into a cultural center in 2010 will be the main venue of this year's general meeting. This space was first built in 1864 to host a military riding hall within its 70 meters long, 20 meters wide and 16 meters high. It is now on its way to be fully dedicated to theater, classical music, dance and contemporary circus.
After the reconversion of this space, the theatre Tuchlaube Aarau launched the use of this unique structure for multidisciplinary cultural projects: it started to co-produce site-specific creations and invited guest performances. Since 2012, the location hosted contemporary circus shows and since 2015 it has been home to the Festival cirqu' put together by Roman Mueller, and that is hosted every second year over a period of 10 days. This festival shows mostly international productions in the Alte Reithalle and in other venues in the small town of Aarau.
The General Meeting and the cirqu'Aarau festival will be the last events hosted there, before the space undergoes a comprehensive reconstruction.
You can find more about this venue and its activities on their website.

Zirkusquartier Zurich

During the second day of the programme, we will get to visit the Zirkusquartier Zurich, home of Zirkus Chnopf, which has been touring around all of Switzerland for at least 30 years with its company of young and professional artists.
In 2016, the space was provided to Zirkus Chnopf by the city of Zurich. As a part of the larger Kochareal, it was also formerly squatted by self-organised groups. The circus should act as a buffer between the still squatted surroundings and the arising business and banking district nearby.
They developed the place, installed rehearsal rooms and performance venues, to be able to host new ateliers, workshops, and present shows. The Zirkusquartier has established itself as an important engine for the development of the Swiss scene for contemporary circus.
You can learn more about this venue and the shows they host on their website.
public
visible
Artistic Programme
Throughout the duration of the General Meeting, you are invited to enjoy multiple artistic circus performances presented in the frame of the festival cirqu'. Please find below the information about the shows included in the GM programme, listed per their representation date.
If you interested in discovering the whole programme of the festival, you can find it here.
Thursday, June 6th

Carte Blanche - ANJA EBERHART (Switzerland)

With the Carte Blanche format, cirqu' offers young Swiss artists a platform and gives them the opportunity to present their current work to an interested audience. The focus is on the process of the experiment itself, not on the final product. The audience gets an insight into a still raw artistic moment.This year, the Carte Blanche of cirqu' is given to Anja Eberhart from Zurich and her art bike James. The two met three years ago at the CNAC in France.

15:40 (20')

Alte Reithalle Aarau

Free

Hocus Pocus - CIE PHILIPPE SAIRE (Switzerland)

Two sliding tubes of light, suspended in parallel in a dark room form the frame of a stage where two bodies appear and disappear, projecting mysterious images which bend and deform. Heads appear and bodies become mere forms, but they're together, friends in the fight. Then it is time to fight the knight, fly together and visit a mythical sea creature that has long dancing hair. The magical trip closes off with a miraculous salvation from the belly of an underwater monster.

10:00 or 16:30 (45') - Choose the slot you prefer

Theater Tuchlaube Aarau

5 CHF

Le Projet F. - COMPAGNIE.SH (Switzerland)

The stories compel an actor, a musician and three other artists to think about the risks of their profession, about what happens when things don't go as they are supposed to. What does one do when serious mistakes happen? When you have already fallen. The performance is a journey of discovery for the five artists, a quest to find answers.

18:30 (60')

Alte Reithalle Aarau

10 CHF

Fidelis Fortibus - CIRCUS RONALDO (Belgium)

A circus family is dead, the graves stand on the manege and only a distraught usher in his disheveled uniform is still on stage. Suddenly circus music begins to play and the usher starts to tell stories, stories about the deceased, about the strongman, the magician, the beloved rope dancer. He kind of shows us what the other performers could do but he only succeeds in spells as if by accident. The slightly morbid tale becomes a sparkling spectacle through Danny Ronaldo who himself comes from an old circus family. Maybe that is why he completely dismantles well-known circus tricks and numbers and why he does it in such a warm-hearted way.

20:00 (75')

Big top at Schossplatz

15 CHF

Vortex - CIE NON NOVA (France)

Become what you already are. The beginning is harmless, playful, cheerful - almost a dance of life. If it wasn't for a strangely grotesque figure standing behind everything, misshaped, breathing heavily, moving awkwardly. The gradual transformation, the evolution, is unpredictable in a very poetic yet sinister way. The performance artist Pia Ménard – herself born as a man - stages the struggle of the human soul in dreamlike images, expresses the indescribable pain in expressive actions and shows her transformation as a sequence of indispensable, combative dances with herself.

20:00 (50')

KUK - SAL 2

15 CHF

Stickman - DARRAGH MCLOUGHLIN (Ireland)

The juggler and performer Darragh McLoughlin creates his fellow entertainers from objects, objects which are in a curious way - almost naturally - connected to him. At least that is what you think, until comments appear which directly address the audience. With careful movements and crisp humor, the artist encourages the audience to see things in detail and from new perspectives.

22:00 (30')

Alte Reithalle Aarau

5 CHF

Vacuum - CIE PHILIPPE SAIRE (Switzerland)

Two bodies appear between two glaring tubes of light and disappear again, showing up again before dipping back into the dark, creating bizarre images, asserting weightlessness in a quiet, worn rhythm. Philippe Chosson and Pep Garrigues show an almost unearthly harmony and elegance. The dance is full of references to art history and quotes from the Renaissance to the Modern Age.

22:00 (25')

Theater Tuchlaube Aarau

5 CHF
Friday, June 7th

Wo ist Tobi? - FAHRAWAY ZIRKUSSPEKTAKEL (Switzerland)

In their uncut, playful piece, the two Swiss artists Solvejg Weyeneth and Valentin Steinemann demonstrate an extraordinary wealth of ideas and a lot of independent humor. They do however, need all their artistic skills to manage the misadventures in the manege. The show is unpretentious, witty, fresh, hilariously human.

19:00 (75')

Tent by Zirkusquartier Zürich

10 CHF

Lonely Are The Lonely Roads / Work in Progress - COMPAGNIE ICI'BAS (Switzerland) 
«Icaric games» is an acrobatic discipline in which one artist lies on a ramp and hurls another acrobat into the air. The second acrobat executes daring jump combinations while being spun and thrown through the air. The Compagnie Ici 'Bas cleverly deconstructs this discipline by fusing it with dance movements. The two artists struggle with their identity and their relationship to each other in the execution of this piece, and we see their creative process in a raw, evolutionary form.

17:30 (50')

Zirkusquartier Zürich

5 CHF

China Series #1 - JULIAN VOGEL (Switzerland)

Julian Vogel completes his training as a juggler at ACaPA in Tilburg this year. His research has focussed on the construction of Diabolos with exceptional materials and on the expanding the role of the audience in performance. A six by six-meter square is marked on the floor with white tape. A maximum of 48 spectators enter the square as does the actor. With the help of diabolos which incidentally are built from porcelain shells, the artist develops a dialogue with the audience.

21:30 (20')

Zirkusquartier Zürich

5 CHF (Limited Seats)
Saturday, June 8th

China Series #7 - JULIAN VOGEL (Switzerland)

The audience takes the stage, where large bowls, rebar, ropes and small rolls are lying around. A performer drills, assembles, hangs up and builds his object.

10:00 (20')

Alte Reithalle Aarau

Free (Coffee and croissants are offered to the participants by hosts)

Play Nice - Ariane & Roxana (Germany)

Lie on your back and juggle with hands and feet. Refuse to allow the associated restrictions on your freedom of movement to stop you. Try to move forward, to join the game together, maybe even support each other. Ariane Oechsner and Roxana Küwen are two artists that are committed to exceptional circus discipline. The self-evident way in which they expand and play with the vocabulary of this discipline is astonishing.

16:00 (50')

Theater Tuchlaube Aarau

10 CHF
public
visible
WHO'S THERE?

WHO IS COMING?
Find below the updated list of participants to the General Meeting... Let's meet!
In order to access this section, you must enter the password that has been sent to you per email.
WHO WE ARE

WHAT WE DO

THE NETWORK

Coordinator

Funders