General Meeting at Circusstad Festival
public
visible
Presentation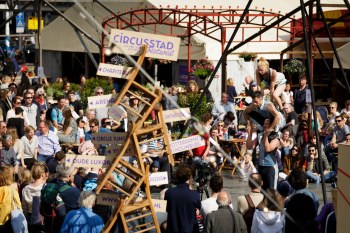 The next General Meeting will be held in Rotterdam (Netherlands) from May 2nd till May 4th 2018, hosted by Circusstad Festival !
Organized in the frame of Circusstad Festival, this upcoming general meeting will be another privilege moment for the network's members to meet, exchange and reflect collectively! 
Besides being a fruitful time to strengthen interactions and ties between members, the general meeting will also be about learning more about its host. To that end, members will be introduced to the local artistic scene, they will have the chance to visit circus venues and facilities and to discover a rich artistic programme in the course of Circusstad Festival Rotterdam.
For its 6th edition, the festival will celebrate both international and local cutting edge circus, from renowned circus companies to emerging talents. Circostrada members will get a real sense of the Dutch circus field, attending a large variety of shows, works in progress and meeting local artists! 
privé
visible
Download the programme!
privé
visible
Artistic Programme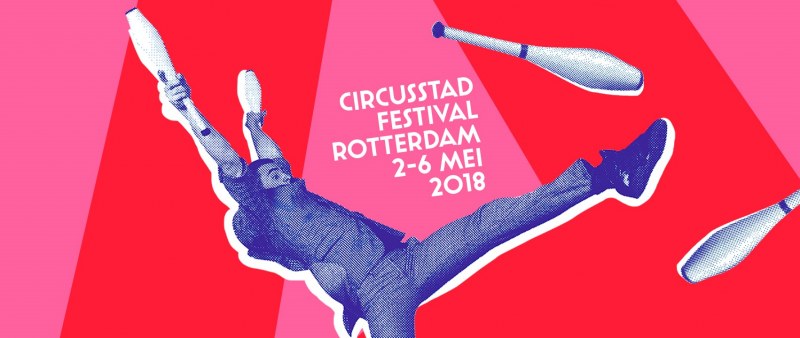 The General Meeting is hosted during Circusstad Festival.
To get information about the full programme, location & prices, you can check the festival website ! 
Circostrada members benefit from professional prices for all the shows. 
The opening show "Battachio" / La Putyka (CZ), taking place on Wednesday 2nd - evening - is offered by Circostrada & Circusstad (upon registration through the CS form)
If you want to attend all the shows that are taking place in the frame of the general meeting - as detailed below - you can book directly on the Circusstad website and pay by clicking on this form : CIRCOSTRADADEAL 
If you don't want to attend all these shows or/and you want to book more shows on Saturday & Sunday at a professional price, you will have to create an account on the website of the festival and fill out the special code: Erasmus18
Discover all the details of the shows happening during the General Meeting day-by-day below! 

TUESDAY 1ST
19:30 - 22:00 Studio Erasmus / TR Rotterdam Schouwburg - Foyer 
« Studio Erasmus » is a Dutch talkshow organized in collaboration with the Erasmus University Rotterdam. Four topics will be presented and discussed, tackling the meeting points between science and other fields, including that of circus arts (this particular topic will be discussed in English).
EMC (Erasmus Medical Centre) researcher Mesut Savas is an expert on cortisol. In this talk, he connects the effects and the importance of the stress hormone cortisol, with a live performance of circus artists. The artists will be live monitored on their stress level during their act.
Limited Capacity : To register click here ! 

WEDNESDAY 2ND

THURSDAY 3RD

FRIDAY 4TH
*Offered by Circostrada & Circusstad Festival to CS members

SATURDAY 5TH & SUNDAY 6TH
If you plan to stay for the weekend, Circusstad is in full swing, with plenty of shows, workshops & outdoor acts! 
To book more performances at a professional price, please visit the Circusstad website, create an account and book your tickets! (Special code: Erasmus18) 
© 2018 Circusstad Rotterdam 
privé
visible
CS Boosters

Focus on the CS BOOSTERS
A little kick to keep you going! 
The idea behind the brand new "CS BOOSTERS" is to offer different thematic paths that are repeated from one General Meeting to the next. Issues dealing with artistic creation, mobility and innovation constitute the guiding threads of these paths and will remain fixed, while the topics and contents in themselves will be renewed for each General Meeting, following a consistent and continuous approach. Get ready to boost your brains! 
CS members explore one of these following paths, choosing among the 4 possibilities as described below. Prior registration needed. 

ARTISTIC IMPULSE 
CS Booster 1 - "The Spectator - The New Star"(*)  
There's a new star in the performing arts world and it's called: 'The Audience'. Everybody is looking for new ways to engage the audience, but what does the audience themselves want? Do they feel free to share their experiences or give feedback? Dramaturge Tobias Kokkelmans has over ten years of experience in new ways of audience engagements through, amongst others, 'The last word method'. Participants of this workshop will first see a small circus presentation and then take part in this method. Afterwards there is time to go deeper into this method and learn more about other methods as well, which were brought together in the Dutch publication 'de taal van de toeschouwer' (The language of the audience).
(*) The CS BOOSTER 1 begins with the viewing of "Familiar Faces", scheduled from 14:30 to 15:00 on Thursday 3rd. 

 Tobias Kokkelmans | Muziektheater Transparant & Opearadagen Rotterdam | The Netherlands   
Tobias Kokkelmans is a dramaturge. He studied Theatre science and Musicology at the University of Amsterdam. He has worked in many different places as a dramaturge for Emio Greco PC, Festival van Vlaanderen, and Ro Theater. He taught music theatre at Codarts Rotterdam Hogeschool Voor De Kunsten. He has also been a freelance journalist for TM, Tijdschrift Etcetera. He is currently permanently attached to Muziektheater Transparant in Belgium and Opearadagen Rotterdam in The Netherlands.
CS Booster 2 - The DasArts Feedback Method (*)
Discover a new way to give feedback! Collective feedback has to deal with many different views of the work, which somehow all need to be articulated and exchanged within one session. The latter becomes very important when dealing with hybrid, cross-disciplinary artistic practices, which are often met in the context of contemporary performing arts. DasArts is an educational institution which brings these artistic practices in the foreground of today's art discourse, also by vigorously implementing this feedback method.This method allows a whole new attitude toward professional collaboration through giving and receiving feedback on each other's works in process, while expanding the boundaries of the learning process. DasArts' central aims for those feedback situations are: to empower the artist who is receiving feedback on his or her work, to go beyond expressions of judgment, to allow fundamental criticism, to create a sense of (self-) discipline for the sake of precision and clarity, and, last but not least, to increase the enjoyment of giving and receiving feedback.
(*) The CS BOOSTER 2 begins with the lecture presentation of the method, scheduled from 13:30 to 14:30 on Thursday 3rd, and is followed by the viewing of the show "Familiar Faces".

 Manolis Tsipos | DasArts | The Netherlands/Greece
Manolis Tsipos is a cross-disciplinary performance artist and mentor with extensive professional experience within the European contemporary performing arts field. He holds two MA degrees in "Theater" and "Environmental Politics & Management". He coaches workshops on the DasArts Feedback Method internationally and writes about poetry, performative texts and film scripts, with publications in Greece and France. He has just completed his first novel Panorama of a Melancholy Man. Lastly, he is founding and active member of the Institute for Live Arts Research (active until 2014), and also of the performance group Nova Melancholía (active until 2011).

MOBILITY PIT STOP 
How fluent are you in international cultural mobility ? If spoken words fly away while written words remain, drawn words offer a more visible and sensitive perspective. Coordinated by On the Move in partnership with Circostrada, this Mobility Pit Stop session invites the participants for a mapping workshop and aims to multiply their international mobility opportunities thanks to peer-to-peer capacity-building. On the one hand, this professional practice analysis includes a practical visual exercise where mobility flows and information are represented on a map – no drawing or map design experience is required. On the other hand, it facilitates constructive feedbacks via a specific protocol of individual presentations and collective proposals so as to create inspiring shifts and ideas about mobility strategies.
On your markers, get set, go!

  Maïa Sert | On the Move | France 
Maïa Sert is project manager for On the Move network. Her academic background and her hands-on experience in France and internationally have reinforced her conviction in the added-value of co-construction and evaluation beyond any boundary. She is a specialist of international cultural cooperation projects since 2008. She works also with artists and cultural professionals to develop international strategies.

INNOVATION REFILL 
Come empty-handed and leave with a practical toolkit on co-design and design thinking! How can we take a step back, think differently and be more creative at work? What thoughts can foster the success and sustainability of a project ?Design thinking provides a targeted and structured process for strategic, creative thinking and problem solving. Co-design ensures that this creative process is both collaborative and inclusive. Revisiting aspects such as defining best practices, shared aims, values, but also going further into the design process, exploring targeted domains, defining and reframing challenges, a special attention will be paid to questions of WHO (stakeholders) is involved within the creative process, HOW (methods, tools) the process works and the WHAT (challenges, scenarios, outcomes) the process is targeted to achieve. This workshop aims to offer as broad an introduction and overview as possible into the basics of design thinking and co-design, providing a practical "toolkit", which you will be able to bring home to develop new visions, way of working, perspectives or relationships! 

  Andrew Bullen | Creative Cooperative | United Kingdom
Andrew Bullen is founder of the Creative Cooperative, co-creator of the European Street Design Challenge (ESDC) and he has created and run citizen co-design and social entrepreneur workshops for the United Nations Development Program (UNDP) in Georgia, Cairo and Alexandria. He taught literature, creative writing and design at universities in Sussex, Berlin, Amsterdam and Utrecht. He co-founded the pioneering Europe Online in Luxembourg, directed the Media Guild Creative Industries incubator in Amsterdam and the Futur en Seine Festival in Paris. His thoughts on Design Thinking can be read in the collection: Driving Desired Futures: Turning Design Thinking into Real Innovation (Birkhäuser, Basel, 2014).

  Janine Huizenga | Creative Cooperative // Waag Society | The Netherlands
Janine Huizenga is head of the department of Interactive Media Design at the Royal Academy of Art in The Hague in The Netherlands. She studied Photography, Audiovisual and Theatre Design at the Rietveld Academie. She is a part-time designer at Waag Society, where she was creative director from 1996-2008. Janine has significant experiences in education, at Willem de Kooning Academie, HvA, HKU, Rietveld Academy and TU Eindhoven. She held the position of chair of the E-culture committee at the Creative Industries Fund from 2013 - 2016.
privé
caché
Access
GET TO ROTTERDAM
From ​Amsterdam Schiphol airport
To reach Rotterdam, you must take the Intercity direct train to Rotterdam Central Station. It takes between 35' to 55' and costs around €12,5.
Rotterdam The Hague airport (7 km from the city centre)
You can easily reach the city centre of Rotterdam by public transport (RET Bus 33) or by taxi. 
If you need a taxi, Rotterdam Airport Taxi is the official partner: www.rotterdam-airport-taxi.nl
Tel : +31 (0)10 – 262 04 06 
Rotterdam Central Station
The fastest connection between Amsterdam Central Station, Schiphol Airport and Rotterdam Central Station is the NS Intercity Direct, running 4 times per hour. 
From France and Belgium: www.thalys.com 
From other countries: www.nsinternational.nl 
From the Schiphol Airport: https://www.ns.nl/en
Itinerary from Rotterdam Central Station to Hotel Ibis
By public transport (15') - not exhaustive  
> Bus 50 - Direction Dordrecht - Stop at Rotterdam Blaak (5' left by walk)
> Metro E - Direction Slinge - Stop at Beurs (9' left by walk)
> Metro D - Direction De Akkers - Stop at Beurs 
> Tram 24/21 - Direction De Esch - Stop at Keizerstraat (5' left by walk)
By walk (25') - see map below
Rotterdam can be easily reached by car, using A4, A13, A15, A16 or A20 motorways. 
Up-to-date information about traffic, congestion or accidents can be found on the website of ANWB - the national motor association (only Dutch) 
Local transportation in Rotterdam 
All meeting venues as well as the festival site are at walking distance, located in the area of Schouwburg.
Need public transport? We have summed up below all the information you might need to move around the city! 

Public Transports Passes options (all only valid on busses, trams and metros operated by RET*)
Price: €3.5 
What for? 2-hours of free traveling through Rotterdam
Where can I buy it? On the bus, tram, metro stations, service shop and RET Service Point, airports
Price: €8
What for? 1-day of free traveling through Rotterdam 
Where can I buy it? On the webshop, RET service shop and RET Service Point, airports
Rotterdam-The Hague Tourist Day Ticket : 
Price: €13.5
What for? 1-day of free traveling through the Zuid-Holland region, with the companies RET, HTM, ARRIVA and Conexxion​
Where can I buy it? At the airport, Tourist day Ticket Web shop, RET service shop and RET Service Point, airports
(*) Note that you can pay a surcharge of €0.50 at a RET Service Shop of RET Service Point for tickets that can also be bought from a vending machine or by internet 

Public Transportation Timetable:
Metro: Monday-Saturday (05:30-0:15) / Sunday (07:30-0:15) 
Tram: Monday-Saturday (05:00-0:30) / Sunday (07:00-0:30) 
Meeting Venues

General information

The festival site and all meeting venues are within walking distance !
The two main locations for the General Meeting sessions are : 
On Wednesday & Friday, we'll be around Schouwburgplein and its theater Rotterdam Schouwburg
On Thursday, we'll be around Fenix loods - Codarts Circus Arts & Circus Rotjeknor 
The different shows will take place among these locations (further information in the artistic programme)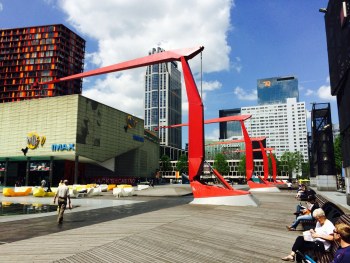 2. Theater Rotterdam, Schouwburg: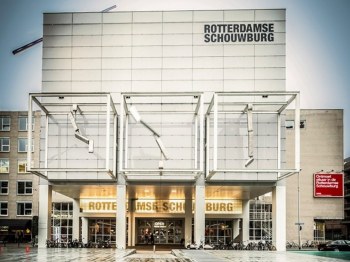 3. Fenix Loods - Codarts Circus Arts & Circus Rotjeknor
​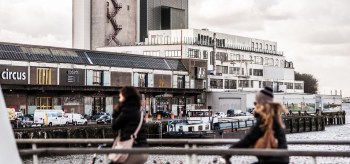 Itinerary 
Have a look at the itineraries from our partner hotel IBIS-Rotterdam to the different locations, by clicking on the links below:
Karel Doormanstraat 101 / 3012 GD Rotterdam   
Kruiskade 10 / 3012 EH Rotterdam                                   
Schouwburgplein 25 / 3012 CL Rotterdam
Veerlaan 19E/F / 3072 AN Rotterdam
privé
caché
Accommodation & Meals
Accommodation
All activities of the General Meeting take place in the center area of the city and are easily accessible by walk.
Hotel Partner Ibis is situated at 20 minutes by foot to the different meeting venues. 
Hotel Partner : IBIS-Rotterdam
The IBIS hotel is located in the heart of Rotterdam in Wijnhaven, close to the Nieuwe Maas river. 
Address: Wijnhaven 12, 3011 WP, Rotterdam
Contact: Tel: (+31)10/7502520

HOW TO BOOK? 
To book a single room at a preferential rate of €79/night (breakfast included), please email directly Laura Dancewicz: H8188-RE@accor.com
Be sure to specify that the booking is made in the frame of Circusstad Festival.
Deadline to book a room: April 6th
There are many hotels and Airbnb options in the vicinity of Circusstad festival-hub, in the surrounding of Schouwburgplein, such as the famous "Cube houses" hostel Stay-Okay or Hotel Bazar. 
Meals
During the General Meeting, the welcoming dinner on Wednesday 2nd, as well as the lunch of Thursday 3rd and Friday 4th are provided by Circostrada and Circusstad Rotterdam Festival!
The other dinners will be at your own expenses: a good way to discover the lovely restaurants in the vinicity and the friendly prices at Circobistro, the festival restaurant. 
More tips to come! 
privé
visible
Contacts
Circostrada Network*  

Marion Marchand / International Coordination Officer 

+ 33 1 55 28 10 02 / + 33 7 52 27 44 12

Circusstad Festival Rotterdam**

Maaike Van Langen / Artistic Director 

Bo Mulder / Assistant 

+31 2409132 / +31 657737454
*For travel grants and information regarding the General Meeting programme of activities
**For practicalities, tips about Rotterdam and information related to the festival
privé
visible
Participants List

WHO IS COMING?
Find here the updated list of participants to the General Meeting... Let's meet!
In order to access this section, you must enter the password that has been sent to you per email.
WHO WE ARE

WHAT WE DO

THE NETWORK

Coordinator

Funders