General Meeting at Café de las Artes Teatro
public
visible
Presentation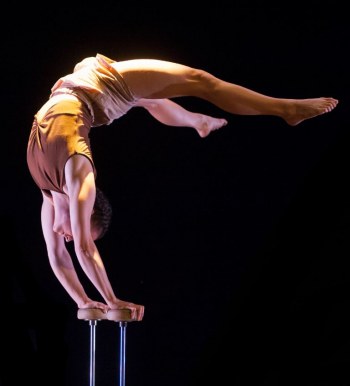 The last Circostrada General Meeting of 2019 took place in Santander (Spain) from November 27 to November 29, 2019, co-organised with Café de las Artes and in the frame of the 8th edition of the festival En La Cuerda Floja. 
One focus of this General Meeting will be about diving in the local context and discovering Spanish circus and street arts productions and companies. The objective is to put in contact artists, professionals, institutions representatives from different parts of Europe and Spain, in order to create networks, learn about good practices and innovative experiences. This aim is to allow Circostrada members to learn more about the Spanish circus and street arts scene throughout three intense days! Some of the activities include: learning about the sector's situation and identify its main players and institutions; attending presentations of projects and showcases in the frame of the festival; introducing artists from different parts of Spain and their latest or ongoing creations; reflecting on two successful Spanish experiences: Media Lab and Veranos de la Villa, and many other parallel activities!

Another highlight of this General Meeting will be dedicated to initiating a reflection on the next Circostrada project for 2021-2024. A specific time will be scheduled to reflect on, share and start building a strategy for the next project, which will be submitted to the European Commission next year, and for that, we will the needs all members' inputs, attention and brain powers!

Café de las Artes (CdAT) is located in Santander, a city of 170,000 inhabitants in the North of Spain. Since 2009 CdAT promotes performing arts creation and offers training all year round for national and international artists. It works closely with the local community to reach out to new audiences and their active participation in the arts.
En La Cuerda Floja Festival offers representations every weekend during the month of November. This new edition of the festival promotes alliances with other artistic disciplines and tries to bring circus to unconventional venues and locations in rural areas outside Santander to ensure an access to contemporary performances to all audiences and to allow artists to explore new settings.
Registration deadline: November 15, 2019
public
caché
Practical Information
Anticipate your arrival and book your travel and accommodation as soon as possible. You can find down below different ways to organise your arrival to Santander, and several partner hotels.
How to get to Santander?

BY PLANE
Santander Seve Ballesteros Airport (SDR) has several direct flight connections both nationally and with the rest of Europe:
Ryanair: Barcelona, ​​Berlin, Brussels, Budapest, Dublin, Edinburgh, Gran Canaria, London, Malaga, Marrakech, Milan, Rome, Tenerife, Valencia
Vueling: Barcelona, ​​Palma de Mallorca.
Wizz Air: Bucharest, Katowice
Volotea: Ibiza, Menorca, Seville, Venice.
Iberia: Madrid
Santander airport is only 5km from the city and is quite well connected to the center with buses every 30 mins (schedules at www.santandereabus.com). The taxi stop is at the exit of the airport, and prices to the city centre are around 20€.
You can also fly to the airport of Bilbao Loui (BIO), which has the largest number of flights and international connections. It is about 100 km from Santander, however there is no direct bus connection, which implies a transfer in the center of Bilbao, with a total travel time to reach the airport of 2h30 hours.
Bizkaibus Airport-Bilbao bus line (Line 3247) connects Bilbao airport with Bilbao Bus Station (schedules at www.termibus.es). From there, you will need to take a bus to Santander (schedules at www.alsa.es)*.

BY TRAIN
Santander has rail connections to the main provincial capitals of Spain. www.renfe.es
*Discount of 30% for participants to Circostrada General Meeting. Indications here:  train discount

BY CAR OR BUS
Santander is connected to Madrid by A-67 motorway through Reinosa. Both from the West (Asturias) and from the East (Basque Country), the best access is through the A-8 motorway. Buses connect Santander with Bilbao, San Sebastian, Oviedo, Gijón, Madrid, Barcelona, etc. For schedules and more information consult www.santandereabus.com. The bus station is located in the heart of the city.
*Discount of 10% if you travel to Santander by bus from Madrid or Bilbao. Indications here: bus discount
How to move around the city?
Santander's city center can be explored on foot as distances are relatively short. However, if you do not want to walk there are several bus lines and bikes rental. You can also experience a boat trip to cross to the other side of the bay.
BUS LINES: All information on urban transport can be found at www.tusantander.es
BIKE RENTAL: If you prefer to get to know the city by bike, Santander offers a bike hire service. In order to use this service temporarily you need a credit or debit card. Payment can be made daily or weekly. When you register you authorise the deduction of a deposit with a limited duration that will be returned to you at the end of your period of hire. For more information visit the website or call 900 900 722.
BOAT TRIPS: If you prefer to view Santander from the bay, two companies provide a boat service: Los Reginas and Bahía Tours.
MORE INFO TO PLAN YOUR TRIP: You can find more info in English about accommodation and places to visit in the city or in the surroundings of  Santander at the Tourist Information Office's website.
Partners Hotels for the General Meeting
Santander is a touristic city so there is a wide range of accommodation available. You can find apartments, hotels and hostels scattered throughout the city and for all budgets. There is a selection below of the best hotels in different areas of the city, which a discount* to CIRCOSTRADA attendees is applied.
*(According to conditions)

NH CITY OF SANTANDER *** 
The Hotel NH Ciudad de Santander is located in the heart of the city, in the busiest area, close to excellent restaurants and the nightlife, as well as the shopping area.
Special rate* for reservations until 21st of October (limited rooms - breakfast included): Single room - €77 VAT incl. /day or Double room - €85.80 VAT included /day
Address: Menéndez Pelayo, 13-15, 39006 Santander - Spain
Booking procedure: mp.onandia@nh-hotels.com / +34942319900
*Discount code: CIRCOSTRADA MEETING

HOTEL BAHÍA **** 
The Hotel Bahía is located in front of the beautiful and famous bay of Santander right in front of the Botín Center, surrounded by gardens and walks but also very close to the area of ​​restaurants and shops.
Special rate* for reservations until October 27: Single room - €70 VAT incl. /day or Double room - €70 VAT included /day
Options: Buffet breakfast - €15.50 /day and Sea ​​view supplement: € 15 /day
Address: Cádiz, 22, 39002 Santander, Cantabria - Spain
Booking procedure: hotelbahia@sardinerohoteles.com/ +34942205000
*Discount code: CIRCOSTRADA MEETING

HOTEL SANTEMAR ****
The Hotel Santemar is ideally located two minutes from the kilometer long sandy beach El Sardinero and very close to the Magdalena Palace.
Special rate* for reservations until October 31st (limited rooms - Buffet breakfast included): Single room - €60 VAT incl. /day or Double room - €70 VAT included /day
Address: Joaquín Costa, 28, 39005 Santander - Spain
Booking procedure: reservassante@h-santos.es hotelsantemar@h-santos.es / +34942272900
*Discount code: CIRCOSTRADA MEETING
public
visible
General Meeting Venues
This General Meeting, co-organised by Circostrada and Café de las Artes, will mainly take place in the Palace of La Magdalena. You will also have the opportunity to discover two other venues: the Palacio of Festivales and the Botín Center. All of these venues will welcome amazing artistic performances during the seminar, but are also architectural gems in themselves. So don't forget to look around when you get there!

THE PALACIO OF LA MAGDALENA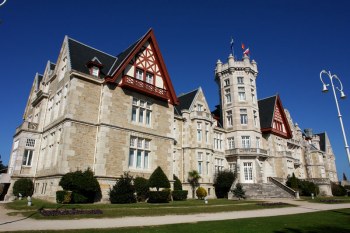 It was built at the beginning of the 20th century and was donated by King Alfonso XIII, who used it between 1913 and 1930 as a summer residence, to the city of Santander. It was designed by the Cantabrian architects J. González Riancho and Gonzalo Bringas. The palace hosts the summer courses of the Menéndez Pelayo International University since 1933.
You can find more information on their website.

THE PALACIO OF FESTIVALES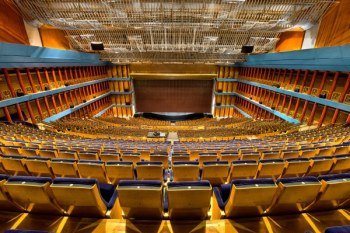 The Palacio de Festivals of Cantabria, located in front of the bay of Santander, was designed by the architect Francisco Javier Sáenz de Oiza and was completed in 1991. Since then, it houses, throughout the year, an extensive cultural program, attracting the most relevant artists of the national and international scene.
You can find more information on their website.

THE BOTÍN CENTER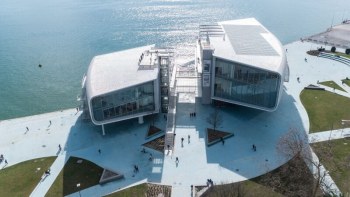 The Botín Center is an art center that aims to generate social development and wealth taking advantage of the potential of the arts to awaken the creative capacity. Designed by the architect Pritzker-awarded, Renzo Piano, the Center is located in a privileged place in Santander, and through a broader urban intervention, Renzo Piano has managed to integrate the city center and the historic Pereda Gardens with its bay.
You can find more information on their website.
public
visible
Artistic Programme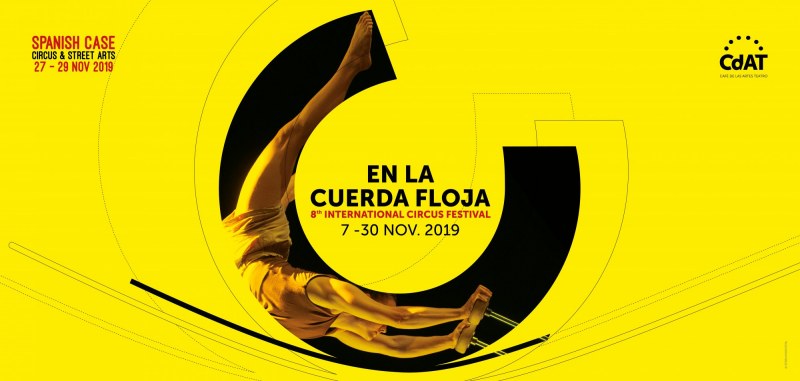 The Festival EN LA CUERDA FLOJA offers a programme every weekend during the whole month of November. During the General Meeting, we have organised the SPANISH CASE, an intense programme focused on Spanish circus and street arts productions in order to enable Circostrada members the opportunity to dive in the Spanish sector during three days!
TICKETING: We are pleased to offer special prices for Circostrada members. Please buy your tickets when registering for the General Meeting. We cannot guarantee availability if you do not book your tickets in advance!
WEDNESDAY, 27th NOVEMBER 2019

Bubble by El Lado Oscuro De Las Flores (Catalunya)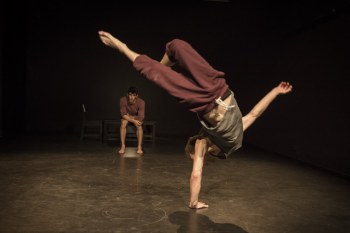 Bubble portrays a fight between two people. It speaks about the blows and physical intimacy that lead to laughter or tears, about everyday situations that give way to fantasy and to the absurd. The eternal submission and struggle that prevent us from distinguishing many times reality from fantasy. Men, upon reaching their limits, meet their most real tenderness.
The company El lado oscuro de las flores, created in 2006, is formed by Ginés Belchí Gabarrón and Jesús Navarro Espinosa. The show 'Bubble' was born with la Central del Cirq's support and combines acrobatics, dance, physical theater and a complex play of lights, sound and music. All this transports the spectator to a sensitive, delicate and intense universe.

20:30 – 21:30

Café de las Artes Teatro

10€ (Circostrada members and professionals will get 20%* discount on the price if purchasing before 31st October)
Book your ticket HERE  
THURSDAY, 28th NOVEMBER 2019

Myres by Grop Circo Actual (Madrid)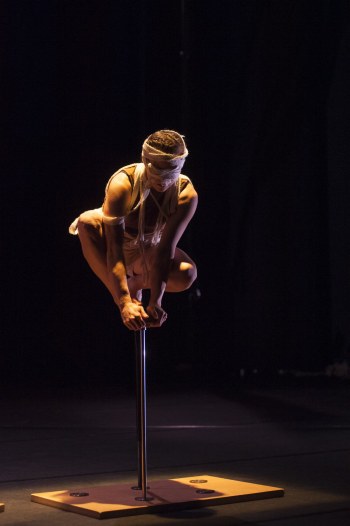 Contemporary circus show inspired by the Moiras, goddesses in charge of weaving the destiny of human beings. Myres invites us to ask who we are, what we weave and who "pulls the threads". In the duality of the scenic proposal between the mythological world and the human world, various situations are presented to the public about destiny and free will, through disciplines such as acrobatic portes, verticals and an aerial network.
Grop (whose meaning is 'knot' in an Italian dialect) symbolizes the encounter and the union of the threads that are born from different experiences and scenic languages ​​through which the circus artist and dancer, Stefano Fabris, director of the company has evolved. In his work, dance and circus are in constant relationship and cohesion, supporting once each other.

20:00 – 21:00

Centro Botín

14€ (Circostrada members and professionals will get 20%* discount on the price if purchasing before 31st October)
Book your ticket HERE


Punto y Coma by Cia. El Cruca (Catalonia)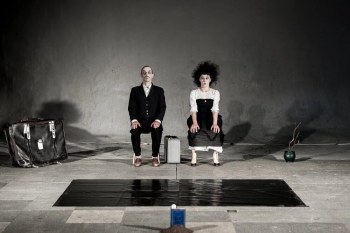 Punto y Coma creates a fantastic world in which objects come alive, movements speak and words fly. They coexist in a forgotten fragment between time and space, in a place where the images dance and fragility trembles, a unique space inhabited by books, reinvented objects and strange beings, a magical and surprising place, disturbingly close.
The street proposal of the company El Cruce ('the crossroads' in Spanish) combines contemporary circus and physical and gestural theater that takes its inspiration from Expressionism and the Theater of the Absurd. El Cruce was created in 2009 by Nicoletta Battaglia and Ruben Río and develops multidisciplinary languages, accessible to all audiences, based on physical expression and poetic relationship with objects. Without a doubt, a crossroads of disciplines, emotions and experiences for the viewer.

21:30 – 22:30

Train station
FRIDAY, 29th NOVEMBER 2019

Carte Blanche by Insomnia Project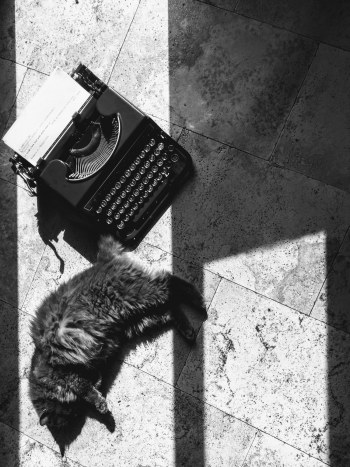 Insomnia Project is an artistic Initiative, directed by Anthony Mathieu, to promote the arts exchange, training and creation in order to fill the gap of professional training on circus and street arts in Spain. A mobile training centre that offers masterclass and the creation of a piece with the collaboration of schools and theatres. On this edition, 'Coffee and Cigarrets', the laboratory will research on circus as a tool for a multidisciplinary theatre and for images creation. Therefore, the focus will be on writing and risks facing, not only with the gesture, but also with the thinking, look and voice, in order to find other forms of communication. After a week of training (just before CIRCOSTRADA), artists will present a Carte Blanche for CIRCOSTRADA members.

13:00 – 13:30

Palace of La Magdalena

Lurrak by Lurrak Antserkia (Basque Country)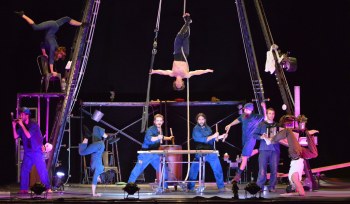 Lurrak is a contemporary circus musical show that tells the story of a rebellion in a factory, in which a small community of men and women opposes abuses in their work, boredom and lack of vitality. The characters move between the absurd and the comic. The spectator will have the opportunity to attend a revolution in an industrial environment where routine reigns.
Lurrak's live music was created for the show with instruments of the Basque Country such as txalaparta, trikitixa and alboka. A dozen circus artists and musicians fill the stage with impossible balances and aerials that follow the beat of the traditional instruments.

20:30 - 21:30

Palacio de Festivales

14€ (Circostrada members and professionals will get 15%* discount on the price if purchasing before 31st October)
Book your ticket HERE
SATURDAY, 30th NOVEMBER 2019

Outono by Pistacatro (Galicia)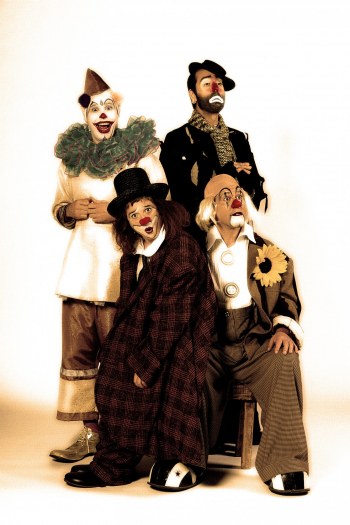 Outono ('Autumn' in Galician language) is a tribute to classic clowns, told through a clown company in the midst of a crisis in an abandoned circus tent. It tells the nostalgic journey of four artists to their past, a celebration of friendship and failures, a claim to being idiots, a poetic look at the ancient clown profession with a lot of humour.
Autumn is a theater-circus show with live music produced by Pistacatro on their tenth anniversary. Pistacatro is composed by a group of theatre and circus artists and musicians who got together in 2006 to boost circus sector in their region. They create and distribute New Circus and Cabaret shows in order to open new circuits and promote Galician companies.

20:30 - 21:30

Café de las Artes Theatre

10€ (Circostrada members and professionals will get 20%* discount on the price if purchasing before 31st October)
Book your ticket HERE 
SUNDAY, 1st DECEMBER 2019

Car Man by Javier Ariza (Castilla- León)

Street comedy by a showman and his car, a SEAT 600. A fun show for all audiences where an iconic car comes alive and will end up driving without a driver in a musical and circus choreography that can take them to Eurovision. Circus show, clown and object manipulation, turning this car into almost a puppet.
The artist Javier Ariza is a simple man in a complex world who channels this paradox through his quirky humor, creating and touring clown, circus and physical theatre shows around the world, having worked in more than 20 countries on 4 continents. A Don Quixote for modern times, he takes the art of being an idiot very seriously, combining high-class music, circus and tomfoolery in weird and wonderful ways.

20:00 - 21:00

Town Hall of Castro Urdiales

Free
public
visible
Who's there?

WHO IS COMING?
Find below the updated list of participants to the General Meeting... Let's meet!
In order to access this section, you must enter the password that has been sent to you per email.
WHO WE ARE

WHAT WE DO

THE NETWORK

Coordinator

Funders