GENERAL MEETING AT ANA MONRO THEATRE
public
visible
Presentation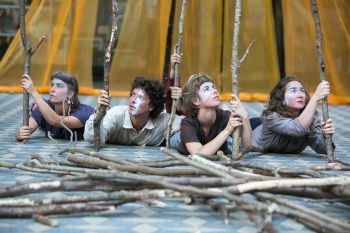 The next General Meeting will be held in Ljubljana (Slovenia) from November 7th till November 9th 2017, hosted by Ana Monro Theatre.
Cooperating with several international partners, Ana Monro Theatre stages new productions, educates younger generations and organizes festivals and other public events all around Slovenia and abroad. In 2017, the company is celebrating 35 years of production, 20th edition of the International Street Theatre festival Ana Desetnica and 10 years of ŠUGLA, their 2-year program of informal education and training in contemporary performing and street arts.
During the General Meeting, Circostrada members will be introduced to the subject:"Education and Training in Street Arts", using the Slovenian example of ŠUGLA. They will have the opportunity to experience existing educational and training practices and to learn about their influence on the development of street theatre and circus and their social impact.
These three days will also be the moment to discuss the current and upcoming activities of the network's work groups during joint sessions and to attend professional workshops with local experts. Finally, the participants will have a chance to meet with members of the European Federation for Education and Training in Street Arts (EFETSA) as well as with representatives of Ljubljana's Department of Culture and Ljubljana's Tourism Board. Last but not least, members will also attend an exciting artistic programme,highlighting artistic projects of the region (Croatia, Slovenia, Serbia).
It will be a great opportunity for the members to get together, share, exchange and discover the local arts scene, all in a warm and friendly atmosphere!
privé
caché
Pre-Programme
Download the pre-programme of the activities!
In order to access this section, you must enter the password that has been sent to you per email.
WHO WE ARE

WHAT WE DO

THE NETWORK

Coordinator

Funders