public
visible
Presentation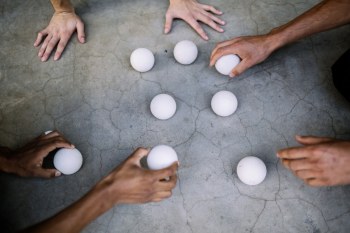 CS LAB#2 An insight into Co-design & Design Thinking Methodology 
How can we work together in an efficient, innovative and harmonious manner?
What thoughts can foster the success and sustainability of a project?
Following the CS Lab#2, a workshop held during the General Meeting of the network in Fossano (Italy) on June 29th 2017, a publication presents you a set of tools based on the concept of Co-design and Design thinking. These are processes that imply a collective dialogue, creativity and the inclusion of multiple perspectives, resulting in innovative solutions based around common values and narratives. The publication describes a "hands-on" and practical approach, built on the implementation of specific tools and a methodology favouring the human, applied to the context of the production of circus and street arts. 
public
visible
Publication
Download the publication of the CS LAB#2!
In order to access this section, you must enter the password that has been sent to you per email.
WHO WE ARE

WHAT WE DO

THE NETWORK

Coordinator

Funders