Research trip to South Korea
Presentation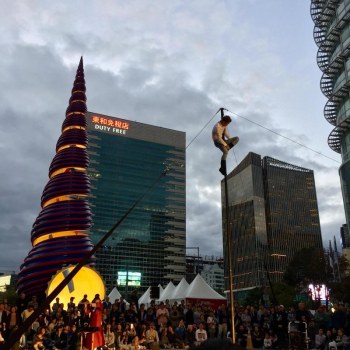 Circostrada organised a research trip to South Korea from October 4-10, 2018, in partnership with and in the frame of the Seoul Street Arts Festival and PAMS - Performing Arts Market in Seoul.
It was the occasion for the members to discover the local circus and street arts scene, to get a better grasp of its context, actors, specificities and challenges, to meet South Korean artists and to visit its main cultural venues.
What was on the agenda during this one-week trip?
Seoul Street Arts Festival: the largest street arts festival in Korea, showcasing more than 50 high quality national and international companies performing across downtown Seoul. 
Performing Arts Market in Seoul (PAMS): a major international performing arts platform in Korea and the biggest one in Asia. 
Meeting with key local stakeholders to better understand the South Korean context, including members of the new CAN-Circus Arts Network.
Visits of some of Seoul's most recent and innovative cultural spaces, including the Seoul Street Arts Creation Centre. 
A report will be issued in English and in French soon, stay tuned! 
The programme
Picture Gallery
In order to access this section, you must enter the password that has been sent to you per email.