General Meeting in Elbeuf
Presentation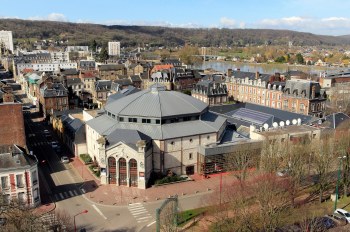 We'll be heading West for this meeting, during which we will offer you to undertake a journey to discover the Normandy region – a territory of artistic exchanges and innovation. Co-organised with Cirque Théâtre d'Elbeuf, this meeting between Circostrada members will be focused on three key cultural venues of the "Metropolis "Rouen Normandie":
Cirque Théâtre d'Elbeuf– National centre for the circus arts in Normandy, one of the eight remaining 'free standing' circuses in France. It is the only one to have both a circus ring as well as an Italian style stage (proscenium stage), making it a truly unique space and heritage building dating back to 1892. Co-organiser of SPRING, festival celebrating new forms in circus arts in Normandy with La Brèche in Cherbourg as part of the platform "2 Pôles cirque en Normandie".
L'Atelier 231: National centre for street arts and the public space  
The Fine Arts Museum of Rouen.
These three days will be characterized by mobility and built around the theme "Circus and Heritage". You will have the chance to better grasp the nature and singularities of the area surrounding the Cirque Théâtre d'Elbeuf, notably through visits of venues dedicated to circus and street arts, meeting with artistic and an programme combining shows and works in progress.
You can already save the dates in your calendar and start planning your trip! We really count on your presence to enrich and give full meaning to this privileged moment. 
Launch of registration + detailed programme scheduled mid-October on the Circostrada website!
Crédits photo : ©Ville d'Elbeuf_L
In order to access this section, you must enter the password that has been sent to you per email.